The Department of Information and Communications Technology (DICT) Luzon Cluster III partnered with Zuitt Coding Bootcamp to provide Full Stack Web Development training under the Digital Jobs PH, a program designed to create various ICT training to help capacitate provincial Filipinos.
Zuitt was able to train learners from Albay, Camarines Norte, Camarines Sur, Catanduanes, Masbate, Occidental Mindoro, Oriental Mindoro, Palawan, and Sorsogon. With this partnership, DICT and ZUITT has been able to provide opportunities nationwide.
In this article, Zuitt interviewed Director Cheryl Ortega, the DICT Luzon Cluster III Regional Director, to provide insights about the DICT and Zuitt partnership and to share more information about the efforts and achievements of the DigitalJobsPH program.
(Interviewed by Adrianne Saldua)
---
A Nation-building Initiative: DICT's Digital Jobs PH program
—— What is the Digital Jobs PH program? How did it start?
DICT implements the Digital Jobs PH and this was previously called Rural Impact Sourcing Technical Training Project when it was started sometime in 2017. It was designed to create meaningful ICT-enabled jobs in socio-economically disadvantaged areas in the country through upskilling. So basically, it aims to provide ICT- enabled jobs as a high-value economic activity in rural communities that are not yet ready to host IT/BPM operations so we feel that those individuals can be equipped and they can still be productively engaged whether they are notwithstanding if they're not employed in any IT/BPM organizations because they can even actually do that at the confines of their homes.
—— This started in 2017. Is it an ongoing project?
Yes! It is a continuing thing. When we started, we started small. Of course, this was aligned with the budget. Major stakeholders appreciate the merits and the value of the program and also the quality of the graduates that have been produced. So we get stakeholders who even infused in some more budget and expand some more. This then gets to benefit more learners (or scholars) to be equipped, and to become, as we call it now, the Online Filipino Workers or the "OFW version 2". We call them Overseas Filipino Workers, but in our circle, we already tagged them as Online Filipino Workers.
—— With that, we really see that having online jobs is something that's worth venturing into, and also it will really help more and more people especially OFWs and individuals from rural areas.
Right! You're correct! In fact, we do have a lot of returning Overseas Filipino Workers who were invited to take part in the program. In a way, they said that having been transformed into an Online Filipino Worker is actually equally at par with the income that they have been generating when they were away from their family, or away from their homes, to earn a living. In fact, we also do special batches for OFWs.
—— What type of webinars/workshops does DICT conduct for these kinds of programs?
The Digital Jobs PH is actually a program that is also done in tandem with partners who are Freelancers. There is an umbrella organization for freelancers called the FOPSCo. Since they are practitioners, they helped DICT develop the curriculum and the courses. And mutually, we have been able to identify high-value courses that equipped the scholars to be really confidently ready for digital jobs. And some of these courses are Digital Marketing, E-commerce, Web Development, Social Media Marketing and Advertising, Search Engine Optimization (SEO), Graphic Design, and Content Writing.
Content writing is actually something that we do promote for those who have a knack for writing. PWDs (People with Disabilities) are also welcome in this. We have a champion for that particular course who is a PWD who can really write and that became our champion or model that PWDs can also be productively engaged. It's not a matter of incapability but the capability to be able to do the job online.
Then, we also have Graphic Design, another thing that PWDs can take advantage of, and virtual assistants, which is more or less of an entry point for those who would like to venture into digital jobs. This is something that is light and easy as compared to what I have mentioned earlier which will require some more in-depth technical skills.
And of course, we also have this course specially designed for teachers. The English as a Second Language (ESL) course for teachers who would like to double up as an online English tutor.
So these are just some of the courses that have been developed. We also have comprehensive technical training, that has more or less a little of everything of the courses that I have mentioned.
—— This has been helping a lot of people. You were able to pinpoint the strengths of different types of groups. And also those in the rural areas, don't have to go to the cities to have these types of jobs.
In fact, that is one of the primary reasons why this program was introduced we wanted people to realize that earning is not just confined to the highly urbanized areas. They don't have to go to Manila, Cebu, and other highly urbanized areas. They can actually stay and contribute to the economic activity in their own communities.
This can even unclog people going to the urban areas. The government's program called "Balik-Probinsya", this is one of the alternatives that they can look into in going back to their own provinces, especially this times of pandemic. The future is bright. There are options that they can look up to. They don't have to worry as long as they have the passion and commitment to learn and implement it.
What difference has Zuitt made?
—— How was Zuitt able to support the DigitalJobsPH Program?
Well, aside from the courses that I have mentioned earlier (the package ones that we have with our partner – the umbrella organization of Freelancers), we do also conduct Coding Bootcamps which specifically aim to develop Programmers. This is a highly specialized and technical capability program that DICT is supporting with the hope that we will also produce Programmers.
This is where the partnership with Zuitt has come into play because we need a more highly technical partner who can do this job also for us and with us.
—— Thank you for the opportunity that you gave Zuitt to partner with DICT. With that, why did you choose to collaborate with Zuitt for the training?
Well, for one, you have the capability. This is what we have been saying that Zuitt is an established authority in the subject matter. Zuitt has a proven track record, the courses, the facilities, and more importantly, the competency. So, Zuitt is the authoritative training service provider that can meet and be responsive to the needs of the DICT having to produce competent and quality graduates in Programming.
And aside from that, we appreciated the fact that when we partnered with Zuitt, the scope of work is a complete package so much so that even in the selection process, Zuitt would already come into the picture. Not only in the training administration and delivery but also in the selection process of the participants. And then the competently administered training, as it went on, there's also this tech support for matching the participants for possible career development and the employers. So, it was really a complete package which is exactly what we are doing with DigitalJobsPH. We don't only equip them with technical skills, but we really ensure that they really become job-ready. And even during graduation, and right after graduation, it's either they have generated sales out of their online tasks or transactions and are able to also ink a contract with an online employer. And in the same manner, that's what we also saw with Zuitt.
—— What makes the partnership with Zuitt different from your previous programs? How did Zuitt do as a training partner? How is Zuitt compared to your other training partners?
As I may reiterate, it's a complete package. From the beginning to graduation, it can't be denied the fact that you are an authority on the subject. Programming is not an easy task. In fact, even in the quality of the graduates of the recently concluded training that we had, it was so impressive. We had good quality graduates. So it really means that starting in the selection process, it has been done comprehensively so much so that we got good learners or scholars. True enough, in the graduation, we can see from their impressions, from their sharings, how they have evolved from a budding programmer or a starting practitioner to somebody who they can confidently say they are ready for the Programming industry.
—— Let's talk about the training itself, Zuitt's Developer Career Program. What made it stand out from the other curriculums you have been providing for Digital Jobs PH?
I guess let's look at it that the ones that we have with DigitalJobsPH are something that has beginner's level or technical level. But here in Programming, it's so technical. You should have the discipline and the commitment to become a Programmer. Being able to conceptualize the program logic formulations to become a good programmer, that's something already! Meaning, this is something that is not done on a wide scale primarily because it requires effort, time, and commitment. The selection process is something that we really don't want to take for granted. We had to ensure that we have garnered the desired number of learners who are really fit for the training per se. We're happy with the partnership because we were able to do that.
——With that, what kind of difference has Zuitt been able to make – like impact or effectiveness, that we have contributed through our partnership?
A great lot! Aside from those technical jobs, and technical training, we also have the digital education and digital workforce capability training program. There are programming courses there but these are short introductory courses. For example, we have a course there on Python Programming and it will just run for a week. So, it's like a teaser only. But here in our coding Bootcamp training with Zuitt, it's really comprehensive so much so that our new graduates could say, "This is it! I'm ready! I can become a real true-blue Programmer."
—— After the Bootcamp training, they can jump into a career right away.
Yes! So it's really job-ready for a high-value online ICT-enabled or ICT-based job. So, we would be proud to endorse them (the graduates). I would like to believe that they would have a great level of confidence to also package themselves, introduce themselves, and market their portfolio so that they can be a part of the organization for the Systems Development or the Programming component of any organization.
—— Can you tell us about DICT's experience with partnering with Zuitt? What part of the partnership was the most helpful? What were your expectations with the partnership and were we able to deliver?
You were able to deliver is an understatement because Zuitt has been really and greatly able to deliver. It was really a complete package. And in this partnership, we really didn't have to worry because we know that our trainees are in good hands and that our resources are invested judiciously so that we really produced the desired output.
Creating Livelihood Opportunities with Digital Literacy Skills
—— Do you have any future plans or projects that you would like to collaborate with Zuitt again?
Yes! This is a continuing thing. This is just the beginning. With the output that we had, we are convinced that while at the onset, if anybody will read the coverage of the training, it seems to be highly technical but it has been proven that with the methodology, the mentoring, and the support provided by Zuitt, it can be done, and it has been done with a good quality result.
—— Any message to any tech aspirants and to the future participants of DigitalJobsPH?
I would like to encourage them by saying that your DICT will always be here. We do have a lot of programs and projects but we do realize that we can't do this in isolation. That's one of the reasons why we are actually partnering with training providers (like Zuitt). We can have the digital infrastructure, we can have other programs, but at the end of it all, we would say that human resource is an important resource. We also give major focus on the capability development program
My message or takeaway for everybody – budding or those who like to equip themselves with ICT-enabled skills is to always go after self-development. Pandemic is not a hindrance. Let this pandemic situation be not restrictive. In fact, with this pandemic, more ICT-based skills have been needed because we can do things as usual and with the aid of technology and we can still be as productive citizens of society. Do not let opportunities slip away. Follow your dreams. Dream big, but most importantly, implement your dream. It's free to dream but do something about your dream.
This is what DICT has also been doing. By providing hope for the realization of everyone's dream and to be productively engaged as a digital Filipino worker. No matter how big or small your dream is, go for it!
DICT will always be here. It's through DICT's digital training that your DICT enhances and builds support for the crucial role of ICT in improving learning engagement and performance. Always go for self-development. Follow your dreams and act on your dreams.
—— Thank you very much for that inspiring message. I think one good thing about this pandemic is the realization that ICT jobs are stable and helpful, and that working from home is beneficial for all.
Correct! If there's anything that can be attributed to this pandemic is that it has accelerated our journey to digital transformation. What used to be what we think is impossible or hard to implement, became a natural way of doing it already. As the case of this interview, the online webinars, training, and others.
—— Anything you would like to share with the Zuitt community?
Thank you for this opportunity. I would also like to thank Zuitt for partnering with us. When we approached you, you readily had open arms to partner with DICT given our limited resources. Though it has been a hindrance, we pushed through with the partnership and we have been able to effectively had our first batch of graduates. Rest assured that we will not stop with the first batch. It's going to be a continuing thing. We would get back to you.
We also encourage those who would also like to venture into this kind of training to constantly keep in touch with DICT. Thank you very much.
—— Thank you very much for your time, Director Cheryl. We really appreciate your trust and support for Zuitt. We're looking forward to having more projects with DICT.
---
First Batch of DICT X Zuitt Bootcamp
The Commencement Exercises were conducted last June 14, 2022.
Special thanks to Dir. Cheryl C. Ortega (DICT Regional Director – Regions IV-A and IV-B), Merlin N. Fabricante (Digital Jobs PH Project Management Team Lead), Dr. Maria Graciela R. Bucad (Technical Operations Division Head – Region IV-A), and Tomohisa Kato (Zuitt CEO) for joining this momentous occasion.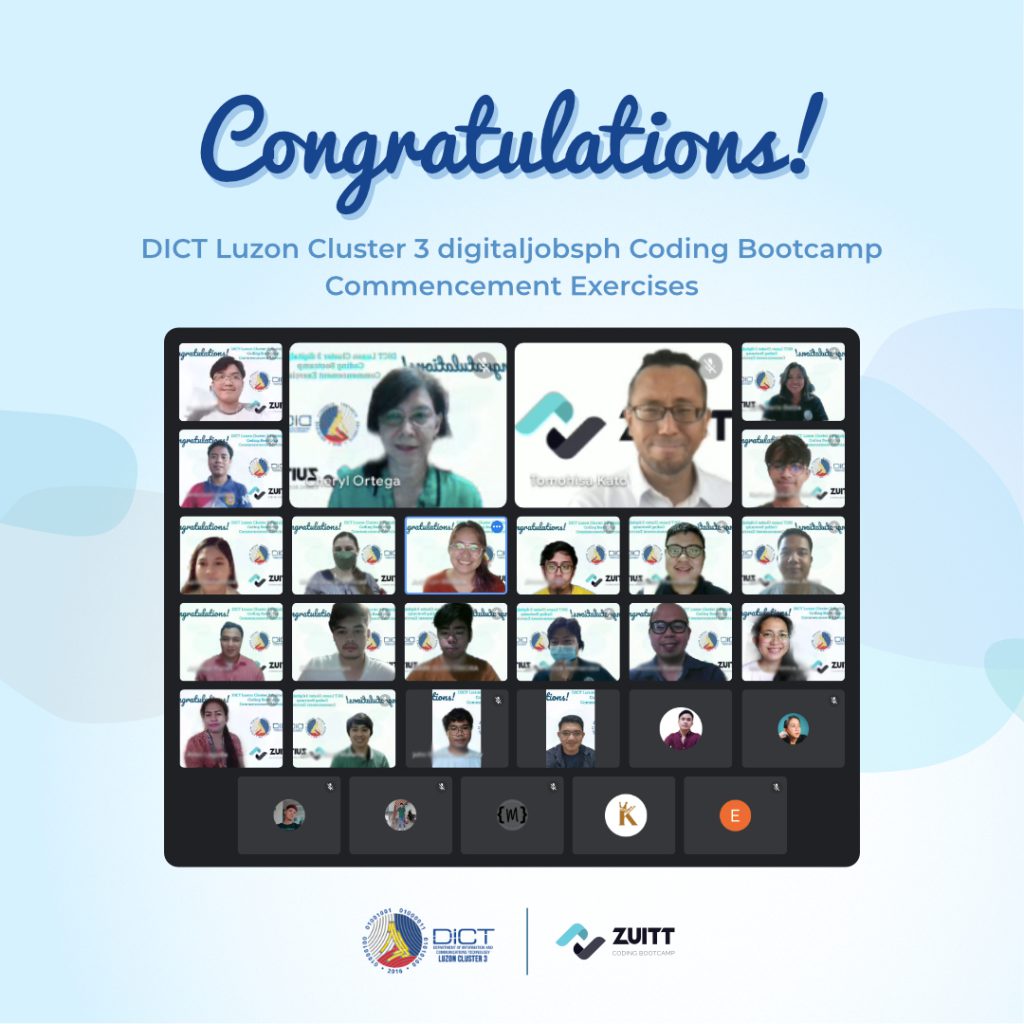 ---
Zuitt's vision is to "Provide Opportunities for Everyone, Everywhere." Zuitt has done this by training 2,300 developers over 190+ batches for 300 companies through our Coding Bootcamp since 2016.
To know more about how Zuitt can help you as a partner and training provider, you may email amt@zuitt.co for further discussion.
Interested to join the next batch for DICT and ZUITT Bootcamp training? Stay tuned to our socials: Facebook, LinkedIn, Instagram, and Twitter for updates.