An awesome start of the year for the new batch of graduates from ZUITT. Our 46th Batch of Day Class students have officially completed their 3 months Full Stack Web Development training.
The Graduation Ceremony was held last January 10, 2020 at the Enzo Building in Makati City. After 3 months of hardwork and patience, they can finally start their journey in the IT field.
Congratulations to Batch 46 Day Class!
OPENING REMARKS
For the Opening Remarks, cheers of excitement surrounded the room as Academic Coordinator Alan Beraquit went in front to congratulate everyone and to give a short pep talk to the graduates.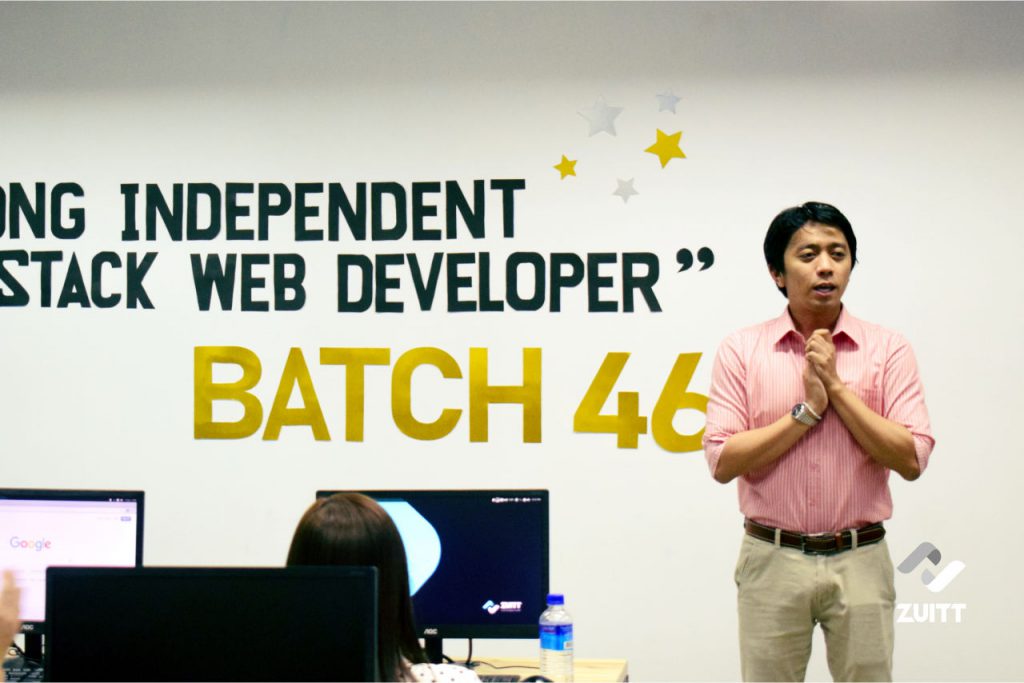 SPECIAL AWARDS
To start the awarding, Batch 46's instructor Alfred Panes, reminded everyone about the nominations that the whole class did beforehand. The whole class was enthused as their instructor called out the nominees for the following Special Awards.
The awardees of the Special Awards are as follows:
Kindness Counts Award: Dan A.
Confident Kid Award: Renz C.
Enthusiastic Learner Award: Jurelle S.
Outstandingly Organized Award: Nova L.
Friendly Neighbor Award: Daniel B.
Really Responsible Award: Benjoe L.
Awesome Attitude Award: Paul L.
Most Likely to be Famous Award: Raymark P.
Most Likely to Establish Own Startup Award: Precious S.
Engagement Champion: Gwen R.
Extraordinary Diligence Award: Benjoe L. & Cristian M.
Task and Time Management Master: Nova L.
Outstanding Mentor: Arvin L.
Batch Mover and Shaker: Jose S.
Exceptional Character Award: Simon M.
Most Innovative Project: Jose S.
Talk: From a Learner to a Full Stack Web Developer
The Batch Instructor invited Instructor Lourence Jaromay to talk about his journey as a Web Developer.
He began sharing his story when he was a kid when he first started joining contests in his school. Winning these contests made him believe that he could do more and become a good Web Developer.
Showing a photo of an error on the screen, he said, "We all experienced all sources of errors but we all got through that. And in those times, the easiest thing to do was to quit."
Finally, he gave out his words of wisdom to the graduates, leaving them the three important lessons he learned:
"Winners Never Quit. It's okay to pause but don't quit."
"Don't Stop Learning. Everyday, make learning a habit."
"Be Courageous. Don't let fear be bigger than you."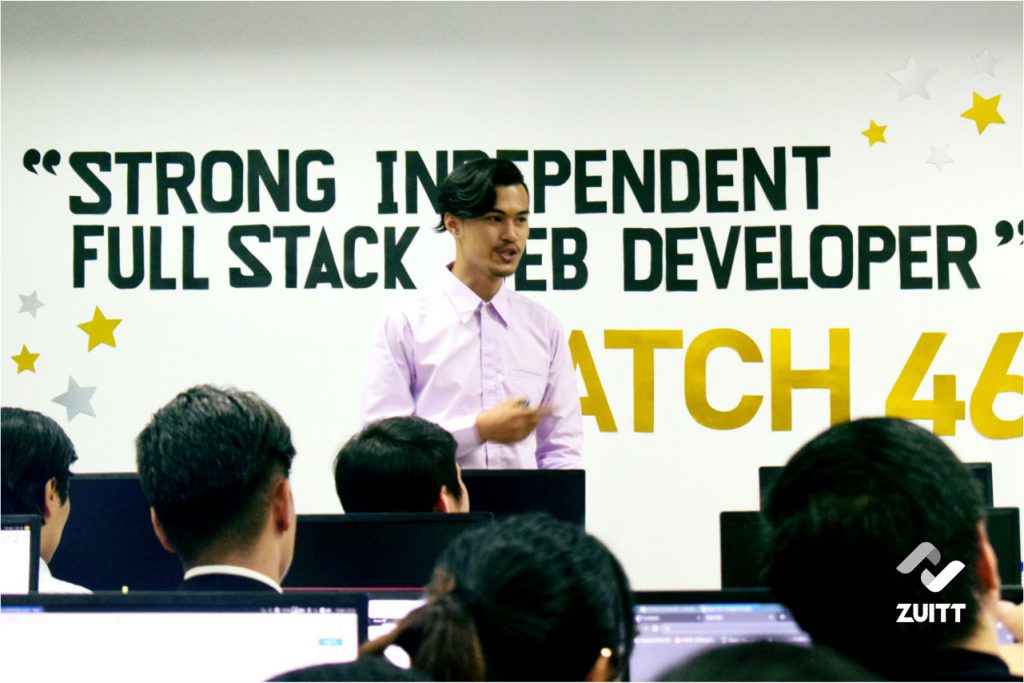 Emphasising the most important lesson from Instructor Lourence Jaromay's journey – his "I can do this!"mindset, Instructor Alfred Panes added, "Look at how they think, look at what they tell themselves."
AWARDING OF GRADUATION CERTIFICATES
Finally, the highlight of the event, the awarding of graduation certificates, was led by their batch instructor. The graduates went in front one by one as their instructor called out their names.
Congratulations to the 32 graduates of Batch 46 Day class.
Talk: Bartender to Web Developer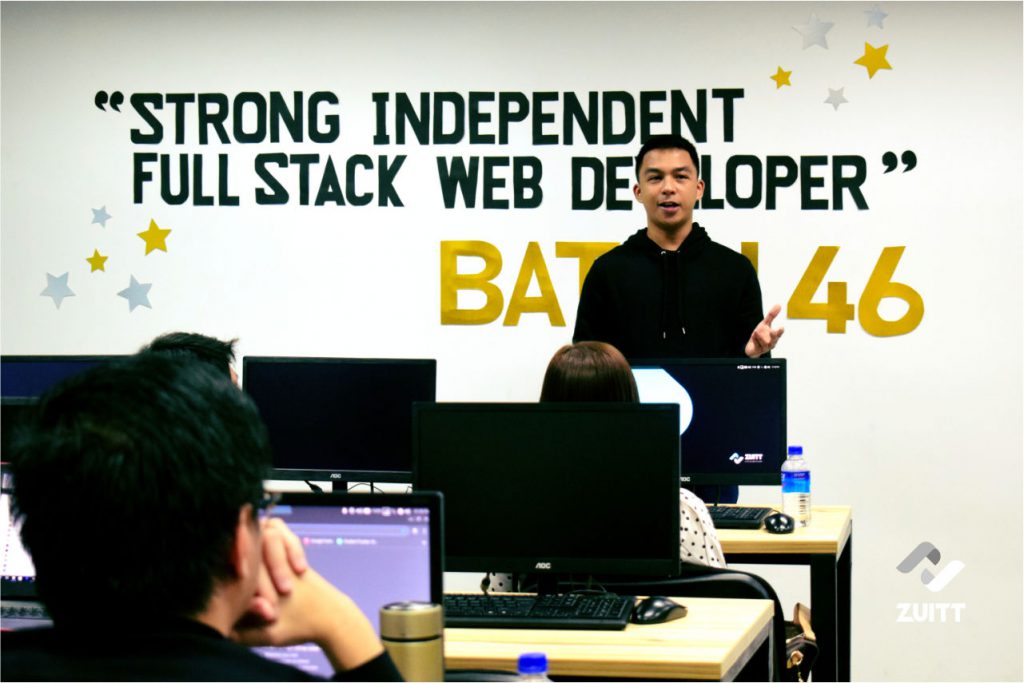 After the Awarding of the Graduation Certificates, their batch instructor called out his former student from Batch 32 class, Gerardo M., to share his experience about his life after Zuitt.
His journey from being a bartender to shifting careers to becoming a Web Developer is an inspiring story of perseverance and determination. "The most valuable lesson I learned from Zuitt is having confidence."
He continued, "Zuitt is here to assist you. After 2 months of applying, I finally got a job as a Junior Web Developer at a Money Lending company."
TOP ACADEMIC PERFORMERS
Of course, it's time for their instructor to share who among them were exceptional. Loud cheers started once again as the graduates shouted the names of who they think the top performers were.
Among the graduates, here are Batch 46's outstanding performers:
Batch 46 – 3rd Top Academic Performer: Nova L.
Batch 46 – 2nd Top Academic Performer: Simon M.
Batch 46 – 1st Top Academic Performer: Jose S.

Other Academic awards were also presented. In every batch, there are three capstone projects to be accomplished. Here are the awardees:
Best Javascript Project:
Marti D.
Paul L.
Best PHP Hackathon Prototype:
Jose S.
Raymark P.
Patricia L.
Phoenix P.
Best in UI/UX:
Nova L.
Raymark P.
Best in Logic:
Simon M.
Jose S.
Best Capstone 1:
Nova L.
Best Capstone 2:
Jose S.
Best Capstone 3:
Benjoe L.

FINAL TALK: Batch 46's Instructor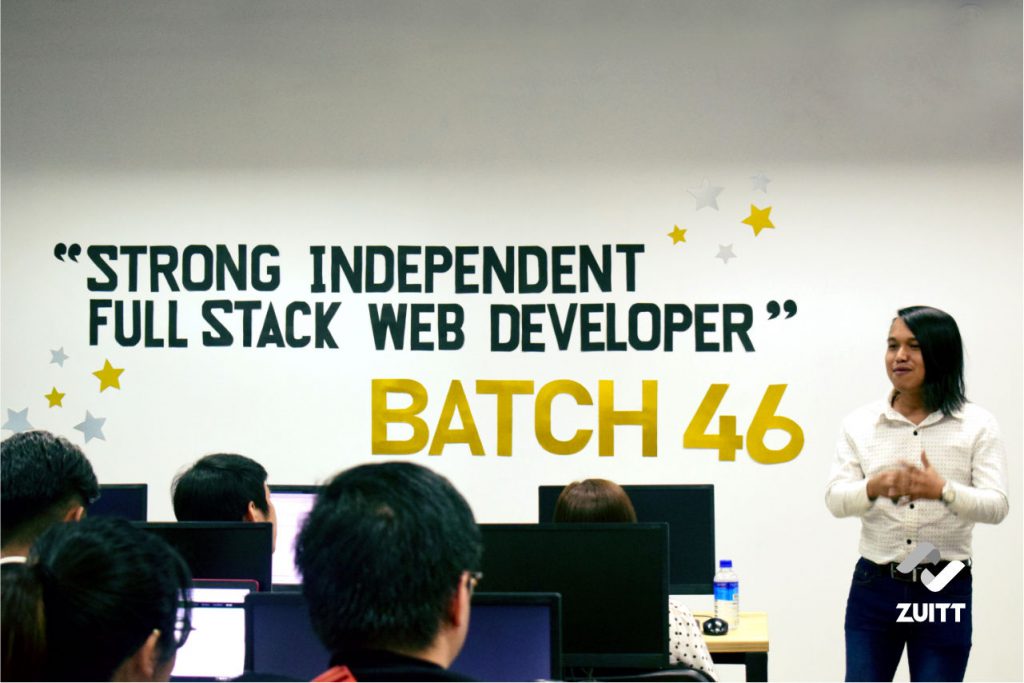 Batch 46's Instructor Alfred Panes delivered his Final TED talk. He said, " I do this every Monday in our class and this will be my last. I hope one day you will all remember that someone told you about this."
Reminding his students to only listen to the voice that matters, he told his story before he became a Zuitt instructor. "For a long time I was afraid to do new things that I am uncomfortable with because I listened to the voice telling me I can't. Stop the voice in your head that says you can't."
He added, "The only thing that prevents you from achieving your goal is the excuse you keep on telling yourself."
Finally, their instructor proudly said, "I sincerely believe that you are all a Strong, Independent, Full Stack Web Developer."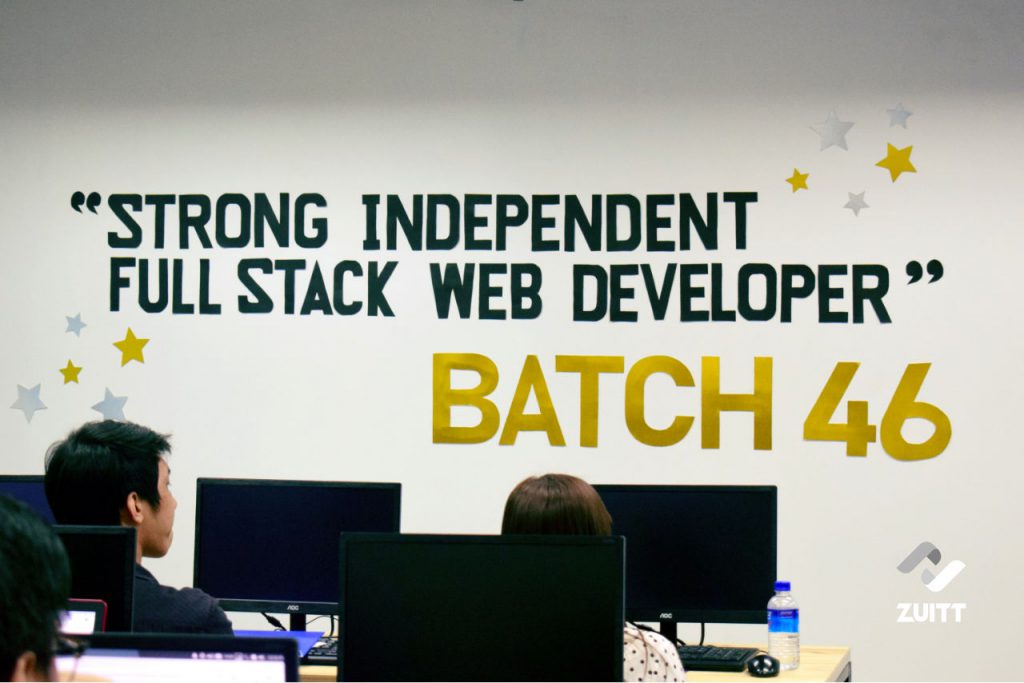 Congratulations once again and we wish you all the best, BATCH 46 DAY CLASS!