Mark your calendars, future bootcampers!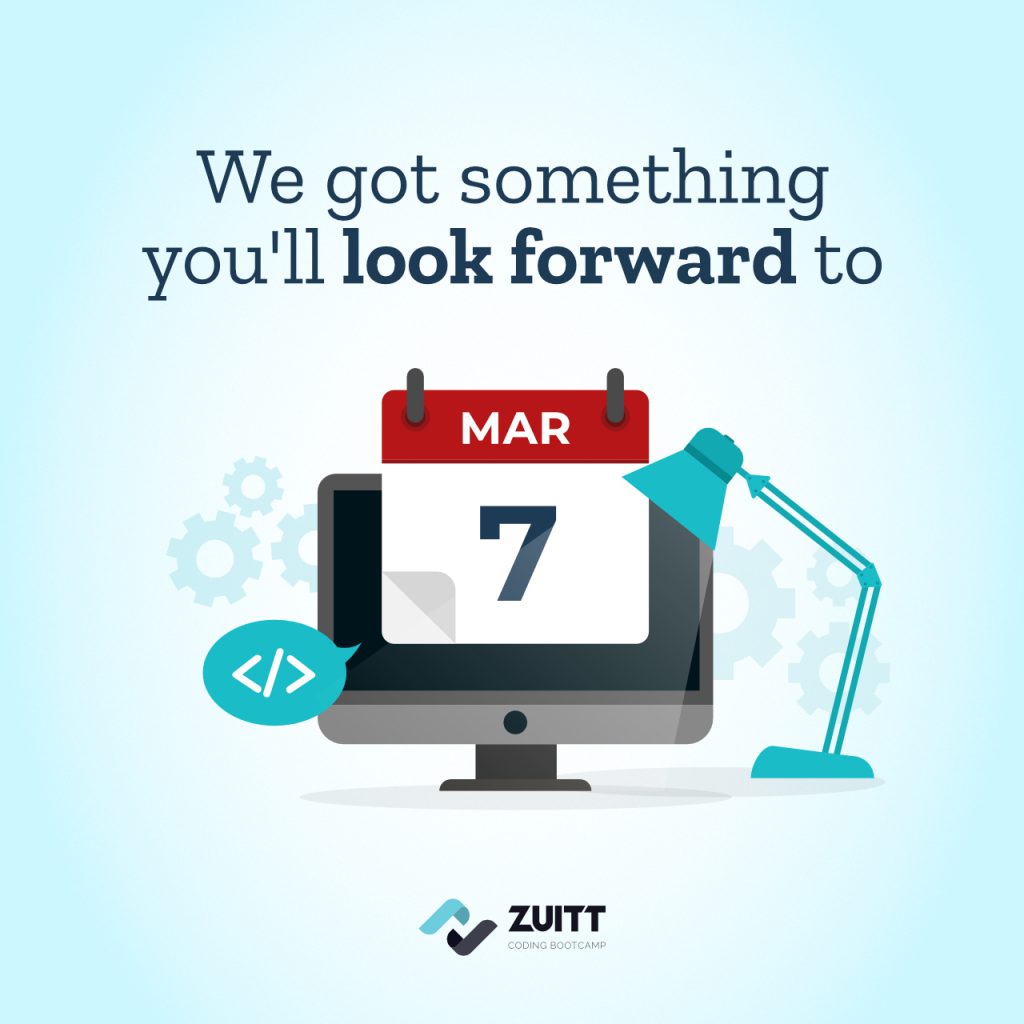 We are happy to announce that Zuitt Coding Bootcamp will hold an orientation on a Saturday.
This is a one-time thing. We encourage you to take this opportunity to book a schedule with us and save yourself a seat.
If you have been wanting to schedule an orientation with us but weren't able to because of your unavailability on a weekday, then this could be convenient for you.
We normally hold our orientations on weekdays, by the way.
Our regular orientation schedules are from Mondays to Fridays (10am & 2pm) at our QC and Makati campuses.
For our Quezon City Campus, available orientation slots are from Mondays to Fridays (10am & 2pm) excluding Wednesdays.
For our Makati Campus, available orientation slots are Mondays to Fridays (10am & 2pm) excluding Wednesdays (2pm).
We thought of a one-time Saturday orientation because we know how busy some of you are. As part of Zuitt's Vision "Opportunities for everyone, everywhere," this Saturday orientation is for the benefit of those who can't attend orientations on weekdays.
What to expect for the upcoming SATURDAY ORIENTATION: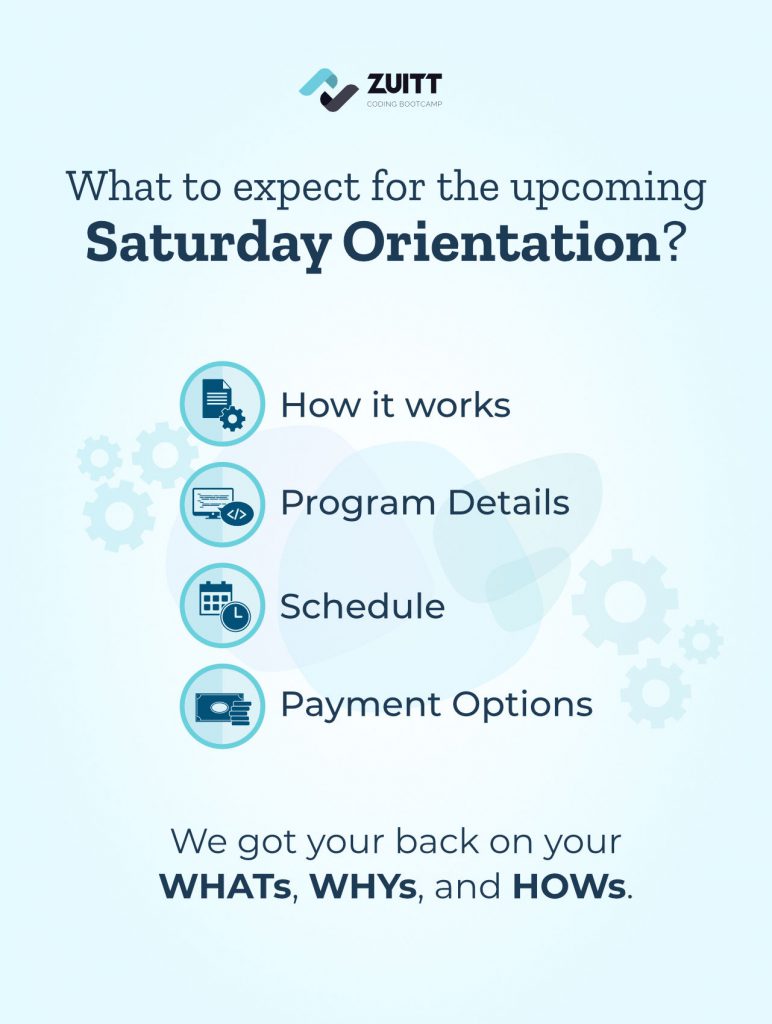 On March 7, 2020 (Saturday), we will be discussing matters like: "Why should you go and aim for a software engineering job?"
Let us enlighten you with the future of the IT industry!
The talks that we have prepared will help you ignite that little spark of your curiosity in coding.
With the hope to inspire you to pursue a software engineering career, and to also encourage you to advance your career by learning coding and the fundamentals of web development, we will discuss how Zuitt can help you with your aspirations.
Have you been struggling with deciding if coding is for you? Attend the orientation and let us fill your curiosity in coding.
Why do we require applicants to attend an orientation?
As part of our enrolment process, we require our students to attend our orientation to better understand what they are signing up for and also to let them see the whole picture of the coding bootcamp they wish to join.
Attending our orientation makes clarifications easier to convey.
Don't worry! Orientations are for FREE. You only need to show up on your scheduled date of orientation and prep some questions you wish to ask.
We have career advisors who will attend to you during our orientations. They would answer your questions about one of our much-loved payment options, the Study Now Pay Later Plan (SNPL). Also, about class schedules, program details, and opportunities after your graduation.
We understand that by applying, you would want to go down with the nitty-gritty of the Coding Bootcamp. We are very particular with this process too. One of the main goals of this orientation is to lessen misunderstandings.
Event details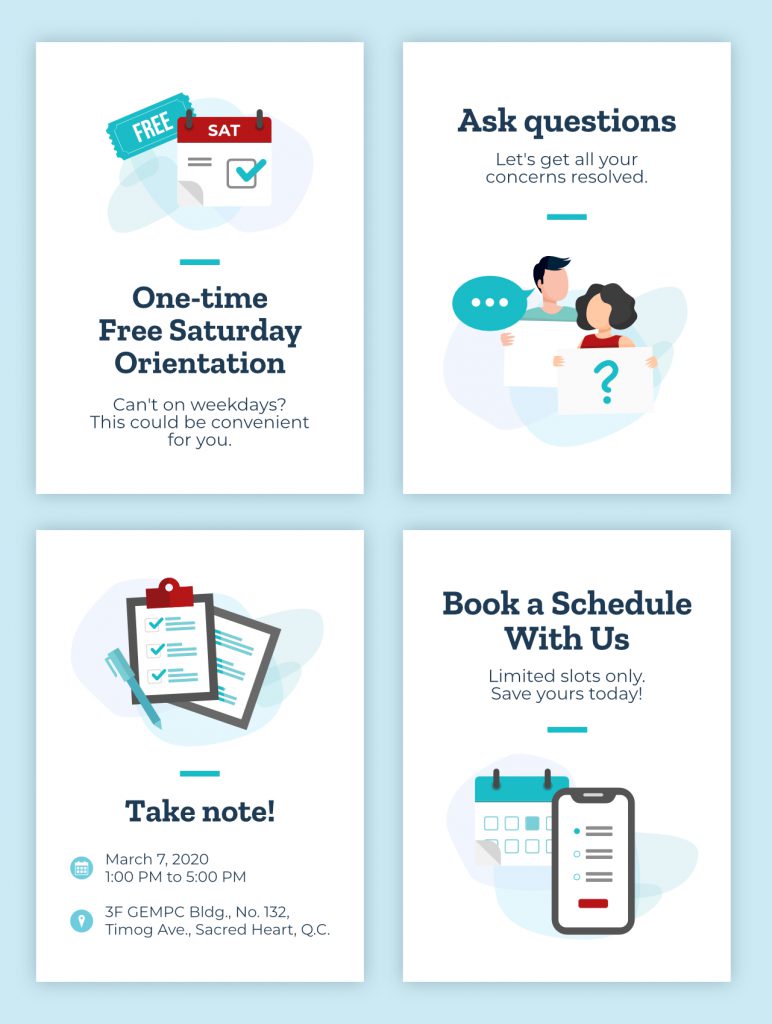 Again, this is a one-time SATURDAY ORIENTATION. For those who have been wanting to schedule an orientation with us but haven't been able to because our weekday orientation schedules aren't feasible for you to attend, then grab this opportunity and attend.
Important reminder:
Make sure you book a Saturday schedule with us to save your slot. There are only limited slots so save a slot for you today.
Note that walk-in applicants will not be entertained. Also, we will be giving priority to those who have already undergone an assessment from us in over 6 months to give you a refresher.
We hope that this Saturday orientation will be favorable to your schedule. Know more about our entire process, visit zuitt.co and learn how we can help you with your journey from application to after graduation.
Remember to prep your questions, future bootcampers! See you there!