Our 47th Batch of Day Class students have officially completed their 3 months Full Stack Web Development training.
The Graduation Ceremony was held last February 13, 2020 at the Enzo Building in Makati City. After 3 months of hard work and patience, they can finally start their journey in the IT field.
Congratulations to Batch 47 Day Class!
For the past 3 months, these people dedicated time and effort every single day to learn coding. They all said goodbye to 2019 and said hello to 2020 together as they pushed through for a number of days committed to what they have started at Zuitt.
OPENING REMARKS
"Give yourselves a pat in the back. You have all invested 3 months of your life for the bootcamp. Congratulations Batch 47!"

Instructor Charles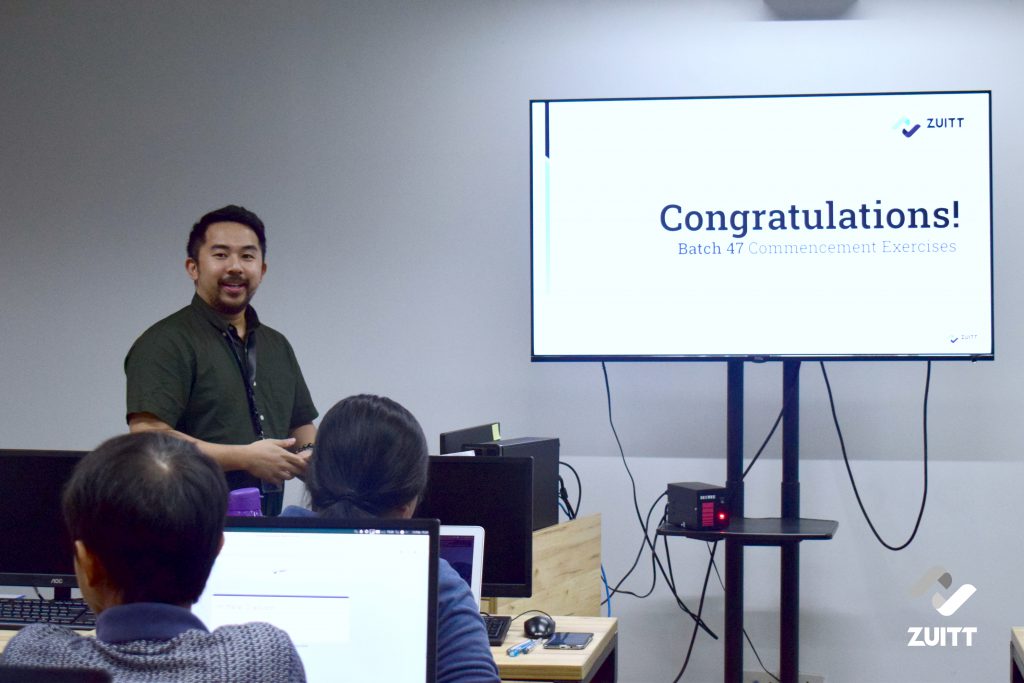 To start the event, Batch Instructor Charles Quimpo called out Instructor Lourence Jaromay for the Opening Remarks. He congratulated everyone and gave a short pep talk to all the graduates.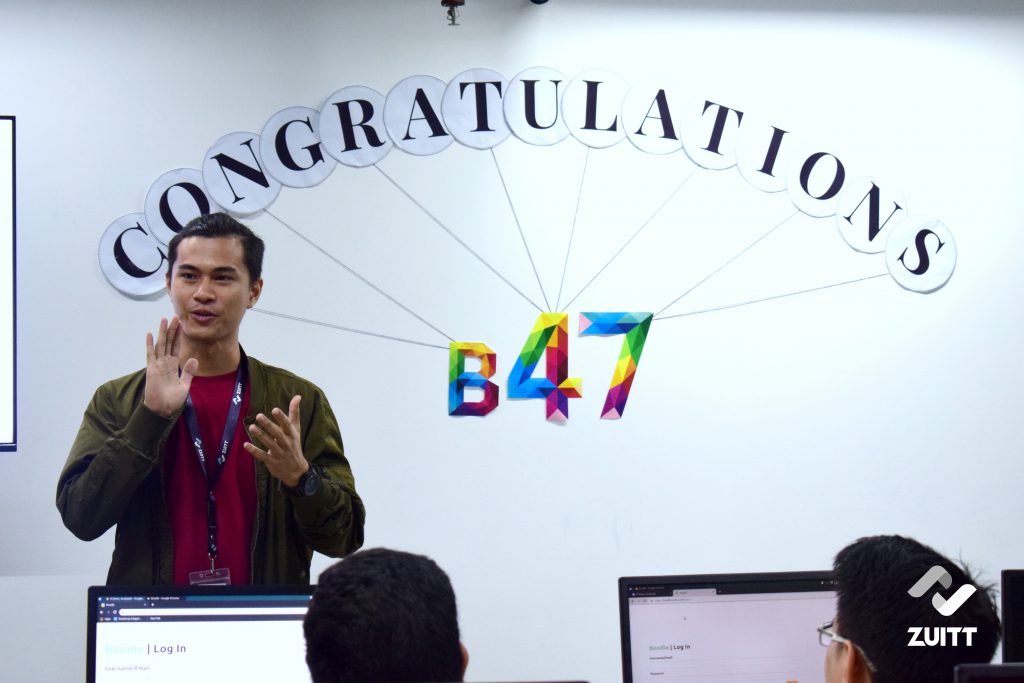 When you experience pain, it will strengthen you. Even if you gain errors, go back to what's important to you. The important thing is you didn't give up!

– Instructor Lourence
SPECIAL AWARDS
To start the awarding, Batch 47's instructor Charles Quimpo, reminded everyone about the nominations that the whole class did beforehand. The whole class was enthused as their instructor called out the nominees for the following Special Awards.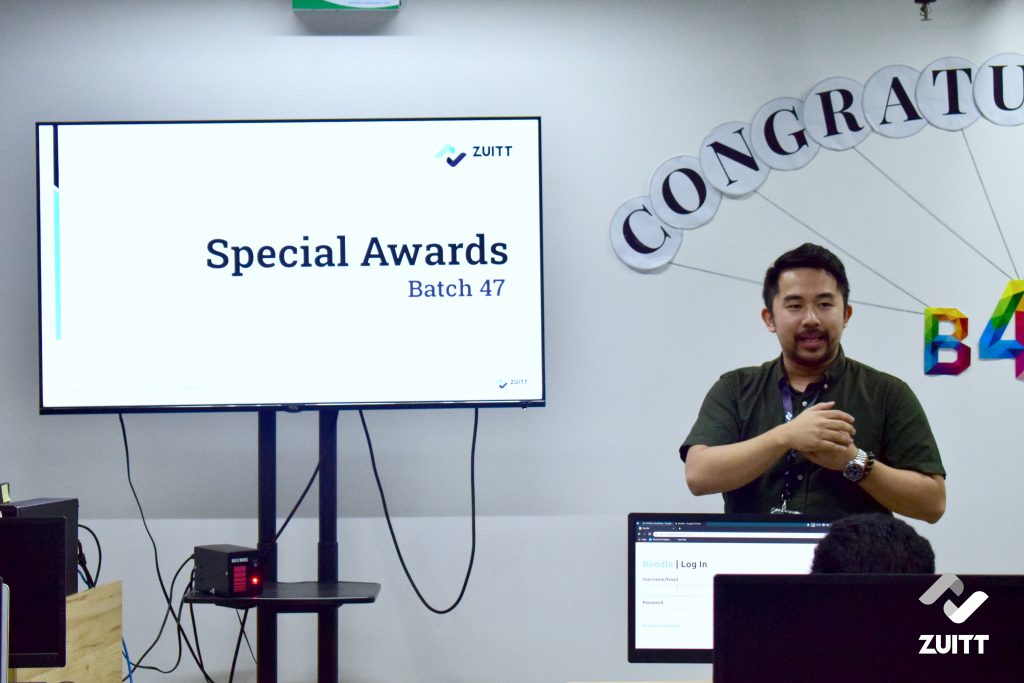 The winners of the Special Awards are as follows:
Kindness Counts Award: Shannen B.
Confident Kid Award: Darren B.
Enthusiastic Learner Award: Marc E.
Outstandingly Organized Award: Esther S.
Friendly Neighbor Award: Hamza M.
Really Responsible Award: Ephraim M.
Most Likely to be Famous Award: Maria P.
Most Likely to Establish Own Startup Award: Matt M.
Student Best Able to Teach Others Award: Marc E.
AWARDING OF GRADUATION CERTIFICATES
"Everyday, it gets a little easier. But you gotta do it everyday. That's the hard part."

– BoJack Horseman
Before starting the highlight of today's event, the awarding of the graduation certificates, batch instructor Charles Quimpo shared a good quote from a famous TV Animated Series "Bojack Horseman" to remind the graduates what they have gone through for the past three months.
Instructor Charles commended each and everyone's perseverance and determination all throughout their learning journey at Zuitt. He reminded the graduates that their coding journey doesn't end at the bootcamp.
With that, the graduates went in front one by one as their instructor called out their names.
Congratulations to the 26 graduates of Batch 47 Day class.
TOP ACADEMIC PERFORMERS
Of course, it's time for their instructor to share who among them were exceptional. Loud cheers started once again as the graduates shouted the names of who they think the top performers were.
Among the graduates, here are Batch 47's outstanding performers:
Batch 47 – 3rd Top Academic Performer: Matt M.
Batch 47 – 2nd Top Academic Performer: Jose C.
Batch 47 – 1st Top Academic Performer: Marc E.
Congratulations to the top performers of this batch!
TALK: Instructor Joyce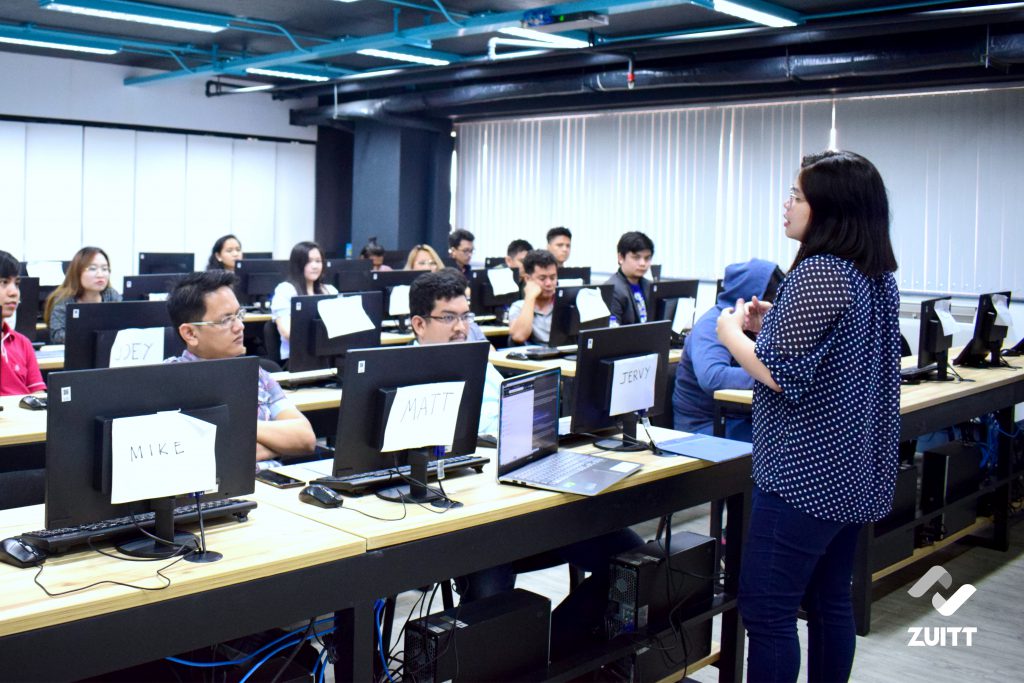 To end the celebration, Instructor Joyce Perez imparted a few words of inspiration about her journey from being a bootcamper to becoming a Zuitt Instructor.
She also shared her past experiences on how she decided on her next steps for her career. Deciding was tough for her but she said that the thing that kept her going was her own motivation to keep challenging herself.
Encouraging the graduates to do so too, she said,
"We need to push ourselves because no one else is going to do that for us."

Instructor Joyce
Finally, to end the ceremony, Instructor Charles Quimpo reminded his students to always go back to their WYD which stands for "Why We Do What We Do."
Congratulations once again and we wish you all the best, BATCH 47 DAY CLASS!