A memorable day has once again gone down in history as Zuitt's 29th batch of bootcampers have officially finished their training on September 18, 2019!  
The commencement program was held at the GEMPC Building in Quezon City. The graduates celebrated the culmination of 6 months learning full stack web development. They can finally hold their head up high and claim, "I am a full stack web developer!"
Opening Remarks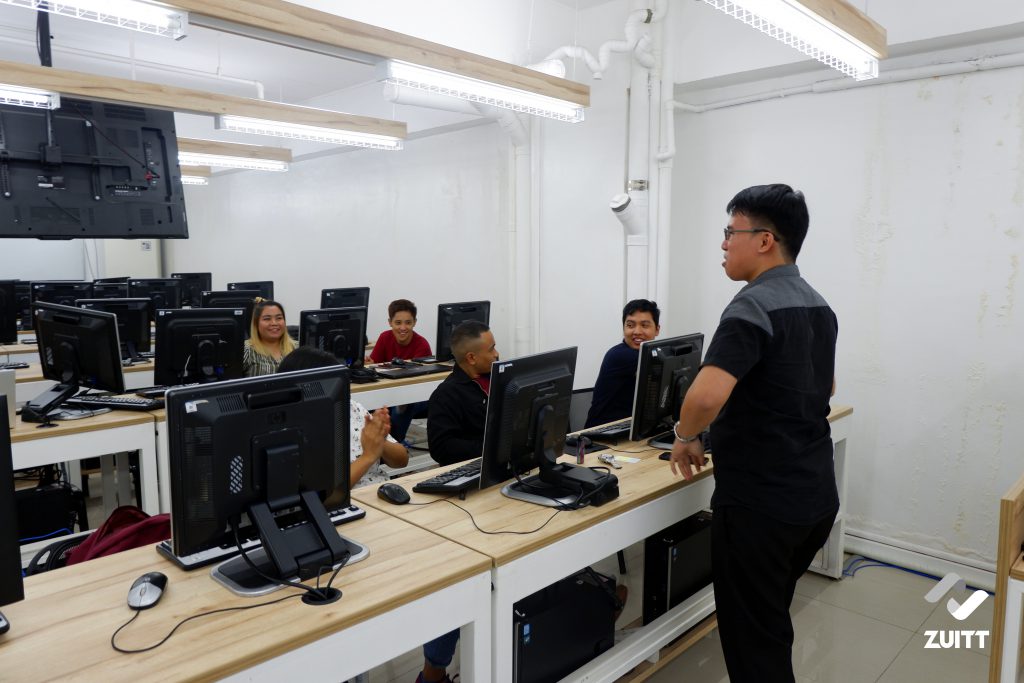 Instructor Sylvan Cahilog welcomed the graduating class and thanked them all for attending the momentous event. "First of all, congratulations…most especially to the buzzer beaters", he jokingly said. 
"Kidding aside, you guys have come a long way. Six months is no joke, especially if it's a night class. You should be proud of yourselves for being strong enough to reach this point."
He then noted all the challenges that the batch went through and reiterated that these are what shaped them to be the competent web developers they are now.
Guest Speaker
After the brief introduction, our special guest speaker from the IT Industry and Zuitt alumnus, Mr. Benjamin R., took to the stage to share his expertise with the graduates. 

Mr. Benjamin, who is now a Web Developer at an International Non-Government Organization, graduated from the Batch 31 Day Class. He was an engineer when he came at a crossroads in his career and finally decided to join Zuitt. 

"First off, I would like to congratulate all of you for finishing the bootcamp! I was in this same classroom too, back in the day." He even pointed out the exact spot where he would sit in. "You guys finished those 6 excruciating months. You spent time and wielded effort. And for that, you're now faced with a new job: and that's a job as an applicant."

Mr. Benjamin added that graduates shouldn't only exert effort inside the classroom, but also in the job searching process. "There are a lot of companies hiring but you should still be diligent when applying. But, seeing that you've reached this point, I know that you can do it!" 

For his closing remark, he left the class with this tip — "Once you do get in, expect a lot of things. You will encounter logic exams, be in a lot of meetings, and run into operators among many others. The key to stay on top of these is to practice your skills."

Instructor Cahilog then handed out the Certificate of Appreciation to Mr. Benjamin for his intuitive speech. 
Awarding of Certificates
Following the awarding of Mr. Benjamin's certificate was another awarding, and this time, it's for the completion of this batch's successful training! 

The graduates of Batch 29 Night Class are 7 in total.
Miscellaneous Awards
After the certificates of completion were handed out, it was time for the most entertaining part of the ceremony: the Special Awards!

The recipients of these awards were voted by their peers, and here are the ones that were given out on this day:

ENTHUSIASTIC LEARNER AWARD: Matthew G.
OUTSTANDINGLY ORGANIZED AWARD: Katrina G.
REALLY RESPONSIBLE AWARD: Katrina G.
AWESOME ATTITUDE AWARD: Marvin P.
STUDENT BEST ABLE TO TEACH OTHERS AWARD: Katrina G.
MOST LIKELY TO BE FAMOUS SOMEDAY AWARD: Moris M.
MOST LIKELY TO ESTABLISH OWN STARTUP SOMEDAY: Ronnie C.
CONFIDENT KID AWARD: Marvin P.
KINDNESS COUNTS AWARD: Claudine A.
FRIENDLY NEIGHBOR AWARD: Charmaine S. 
Top Performers
The students were giddy as the Top Performer Awards came next. As a fruit of their labor, these graduates were given recognition for exemplifying grit and excellence.

Here are the most outstanding achievers of Batch 29 Night Class:

3RD TOP PERFORMER: Ronnie C.
2ND TOP PERFORMER: Claudine A.
1ST TOP PERFORMER: Katrina G.
Closing Remarks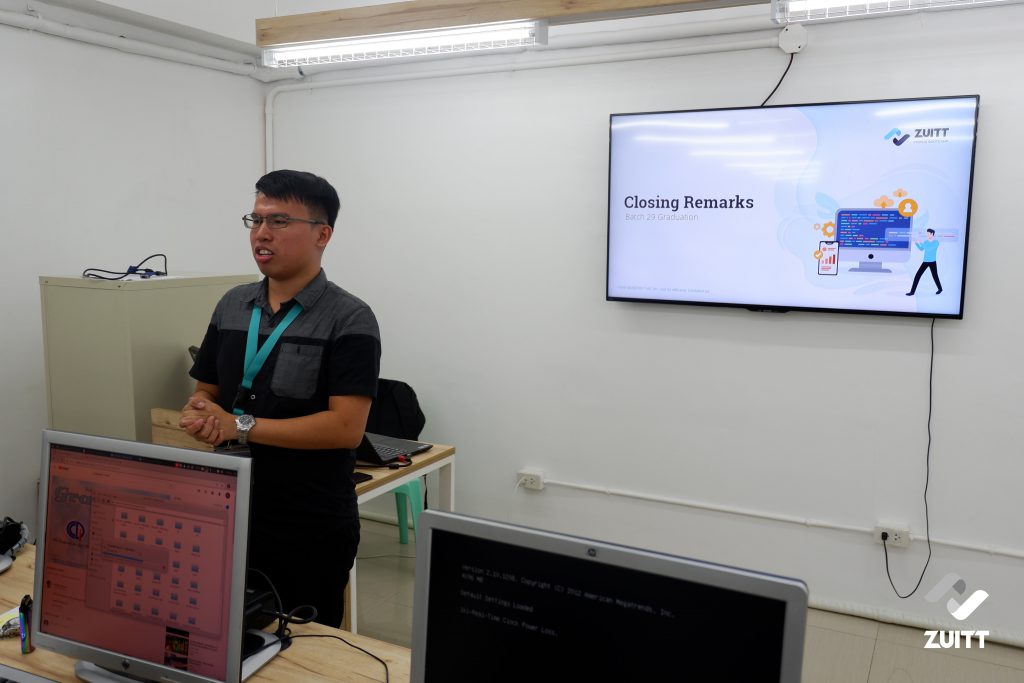 After the top performer awards were presented, Instructor Sylvan Cahilog took the stage again to give some words of advice to the graduating class.

"It's totally normal if you're feeling a little blue right now. Your journey at Zuitt may have ended, but this only means that you're about to open a new chapter in your lives." He once again congratulated the class.

He also added, "All of your hardships are part of being a great web developer. The frustration, confusion, and feeling of giving up? All great web developers went through all these. But what did they do? They pushed through and marched on to work on even bigger things. I am here at Zuitt because I want to be a part of that."

Instructor Cahilog ended the commencement program with a challenge: that the students will someday be a guest speaker for the next generation of Zuitt bootcampers.

And with that, they capped off the celebration with food, fun, and fellowship!
Congratulations and we wish you all the best, Batch 29 Night Class!