Zuitt is proud to announce that a new set of developers are bound to join the IT Industry as our 32nd Batch of Day Class students have officially completed their training!

Their graduation ceremony was held last August 6, 2019 at the Enzo Building in Makati City, where they spent the last 3 months learning how to code. They can finally shout, "I'm a full stack web developer!" from this day forward.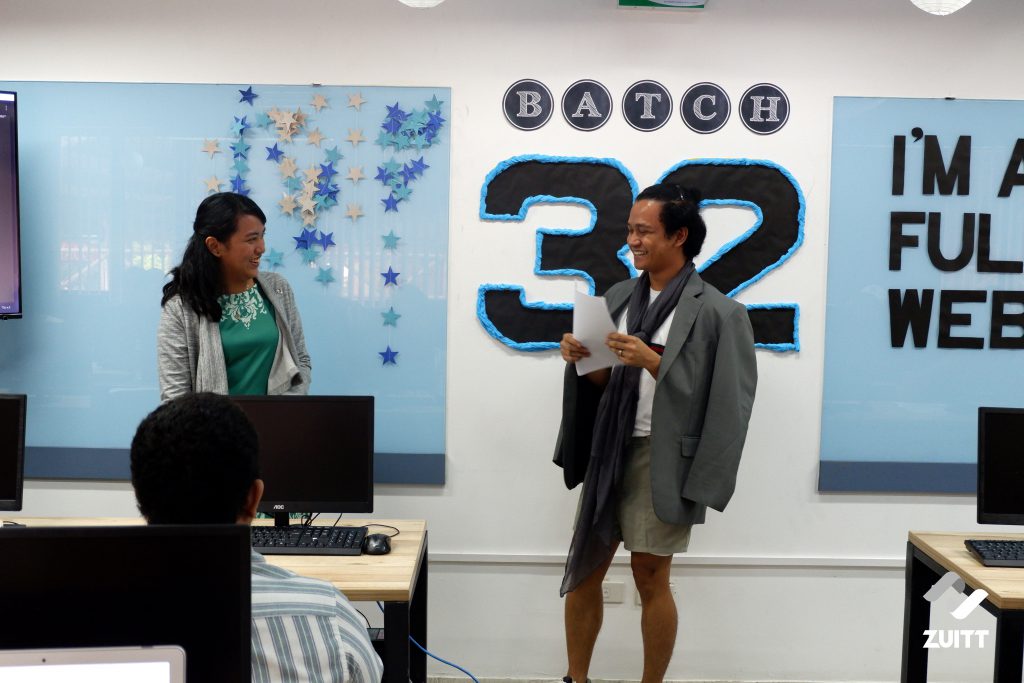 For the opening remarks, it was Instructor Alfred Panes who introduced the ceremony's hosts, Mr. Carlo Cabazares and Ms. Doanna Ancheta.
The lovely duo greeted, welcomed, and congratulated the graduates before introducing the first guest speaker, Mr. Allister Alambra.
Commencement Address
To start off the commencement rites, Zuitt CTO and co-founder Allister Alambra, commended the graduates.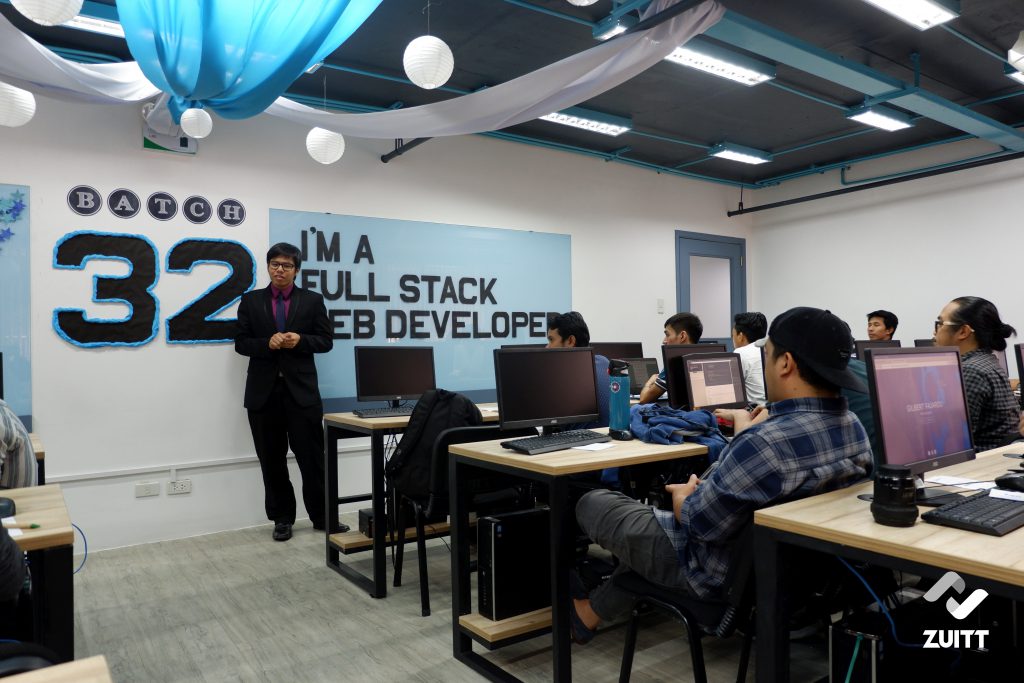 "I want to let you guys know that learning doesn't really stop here especially for our profession. We have to keep learning and learning. Having this mindset is something that when you embrace, becomes a habit." He later added that this should not only be practiced with coding, but with other endeavors as well. 
Regarding obstacles, he uttered that, "Once you overcome these, it's not only fulfilling, but you can finally tell yourself that you can do it, especially after everything you've been through." 
Mr. Alambra ended his address with, "I hope as you move forward with this career, we can work together."
Special Awards
After Mr. Alambra's moving speech, the hosts segued on to the just-for-grins part of the culminating activity – the Special Awards! 
Just like any awards show, there were nominees. But the following students emerged victorious:
KINDNESS COUNTS AWARD – Paul T.
CONFIDENT KID AWARD – Yonni C.
ENTHUSIASTIC LEARNER AWARD – Miguel L.
OUTSTANDINGLY ORGANIZED AWARD – Shane A.
FRIENDLY NEIGHBOR AWARD – Nico I.
REALLY RESPONSIBLE AWARD – Elexor D.
AWESOME ATTITUDE AWARD – Pamela P.
STUDENT BEST ABLE TO TEACH OTHERS AWARD – Alexander R.
MOST LIKELY TO BE FAMOUS SOMEDAY AWARD – Yonni C.
MOST LIKELY TO ESTABLISH OWN STARTUP SOMEDAY – Shane A.
Industry Speaker
Following the recognition of the Special Awardees was Mr. Paolo E., a Senior Web Developer for a whopping 5 years.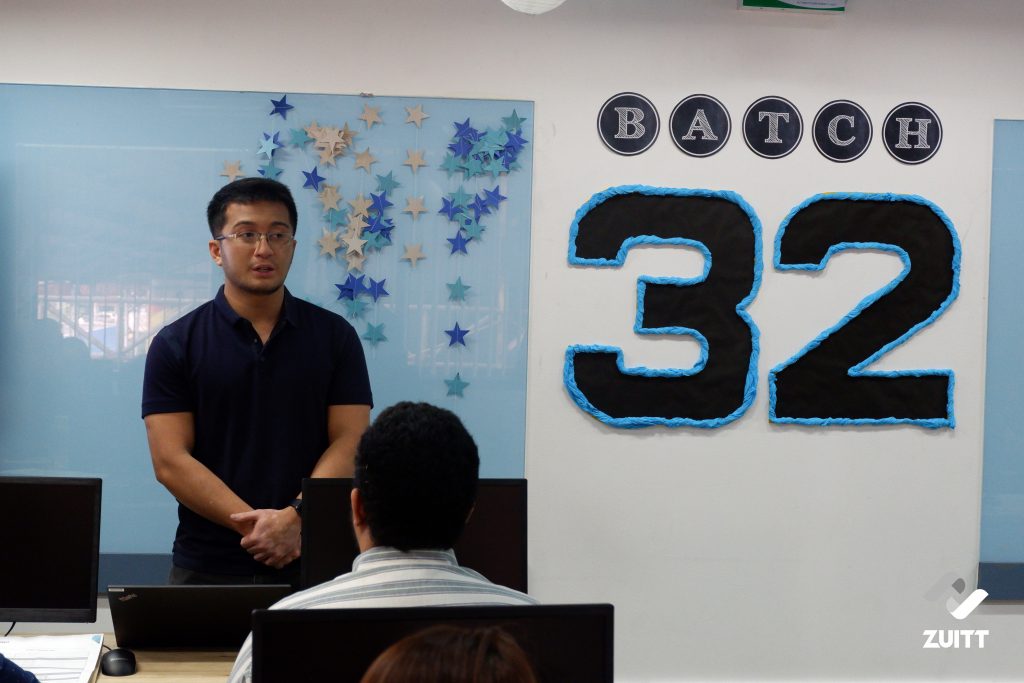 Mr. Paolo had a Computer Engineering degree but his major was about designing chips. He realized that it didn't seem like the best option at that time, so he shifted towards a career in web development. 
He also shared with the class some of his takeaways for success:
1. Be honest.
It's better to tell the truth than to lie and not be able to back your answer.
2. Be resourceful.
Sometimes it can be difficult. You may not always know everything. But you become successful by being resourceful.
3. Find a good boss.
However, it's not enough to look for a good boss. You also have to build a good relationship with them. Always remember that our manager's success is our success.
4. Strive for excellence.
Promotions don't come that easy. Prove yourself first through hard work, then success comes right after.
5. Continue to learn.
The IT industry requires a continuous learning process. There's always so much to explore, learn, and experience.
6. Share info to give value and use it to your advantage.
There will come a time where you bring value not only to yourself, but to other people as well.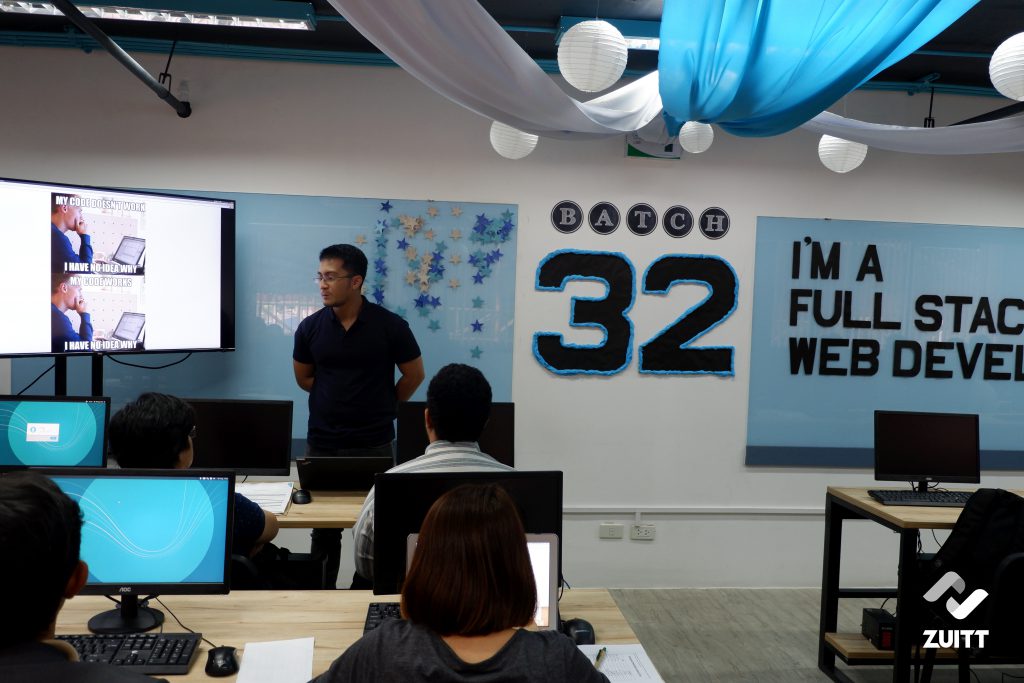 To wrap up his very telling talk, he noted that, "If you're in the IT industry, you will always encounter problems, which is fine. At least, you will not be stagnant. Lastly, if you love your job, you will never work a day in your life."
Awarding of Certificates
After Mr. Paolo's insightful talk, the duo passed the mic to Mr. Panes for the awarding of certificates to the graduating class. 
The graduates of the Batch 32 Day Class are 24 in total.
Alumni Speaker
Next on our roster of speakers was Mr. Mark B. He's a former Zuitt bootcamper and he belonged to Batch 25, together with the graduating class' instructor, Sir Alfred Panes.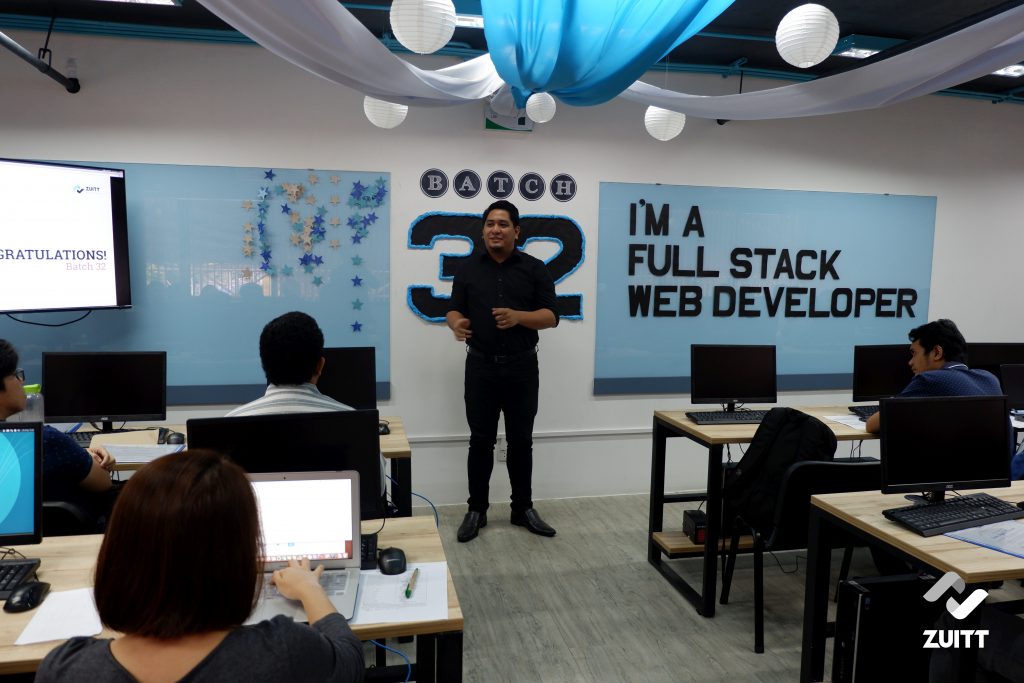 Mr. Mark started off with words of congratulations and told them that they should give themselves a big round of applause. 
He is now a Junior Developer after spending more than a decade in the call center industry. 
He had fun during his time in the call center industry but he felt underappreciated due to the low salary. This led to his discovery of Zuitt. He signed up, got in, and started his interesting coding journey. 
According to Mr. Mark, the learning process was the best part. "It was 13 years since the last time I've seen codes. Everything was new to me. For those who took the course without any background, I felt what you guys had felt. I went through Capstone 1 (Front-end), which was my weakness. But of course, we can still do it because of Zuitt! I finished through Capstones 2 and 3 as well. It was exciting. It was fulfilling."  
When it comes to being nervous, Mr. Mark had his fair share of insights as well. "Before I sleep, I always thought to myself, will I be able to land a job after Zuitt?"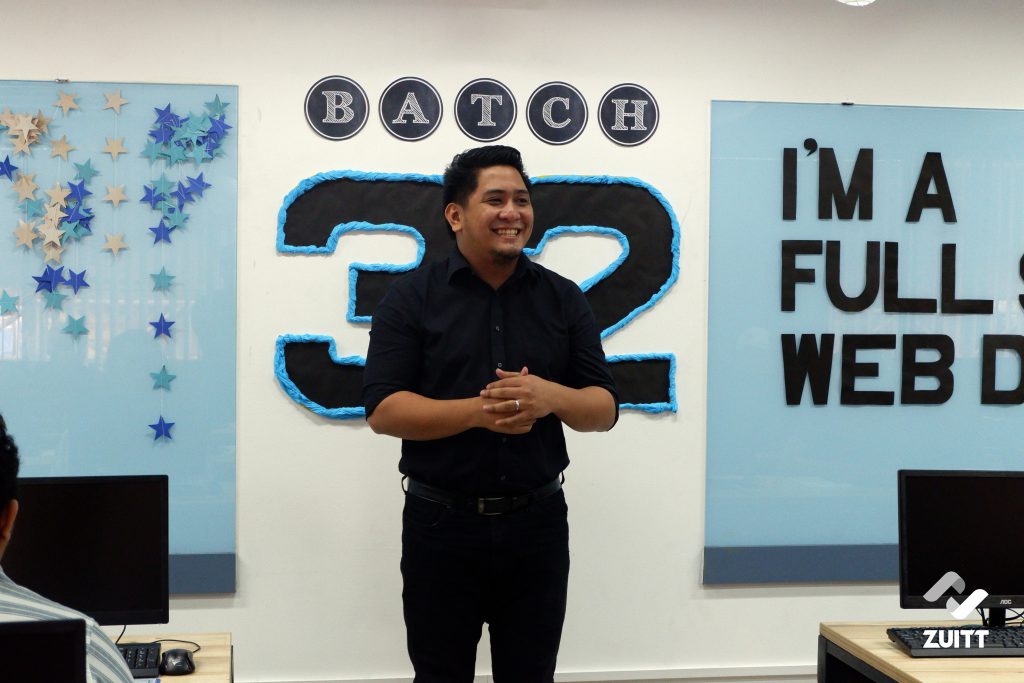 "Yes, anxiety might kick in but don't worry; you're not gonna stay unemployed because you guys are in good hands." He added. 
As Mr. Mark was winding down his speech, he left the graduates with these words of encouragement – "Regardless of who you were before, you guys are going to land a job. Be confident. And again, congratulations!" 
Best Capstone Projects
After Mr. Mark's energizing speech, it was time to appreciate the students' hard work! 
Mr. Carlo and Ms. Doanna called on the following students who won Best Capstone:

BEST CAPSTONE 1 – Alexander R.
BEST CAPSTONE 2 – Shane A.
BEST CAPSTONE 3 – Daryl R.
Experience Sharing
As the graduation was coming to a close, it was time for another industry speaker, Mr. John D. Before being a front-end engineer, he worked as a web designer for 6 years.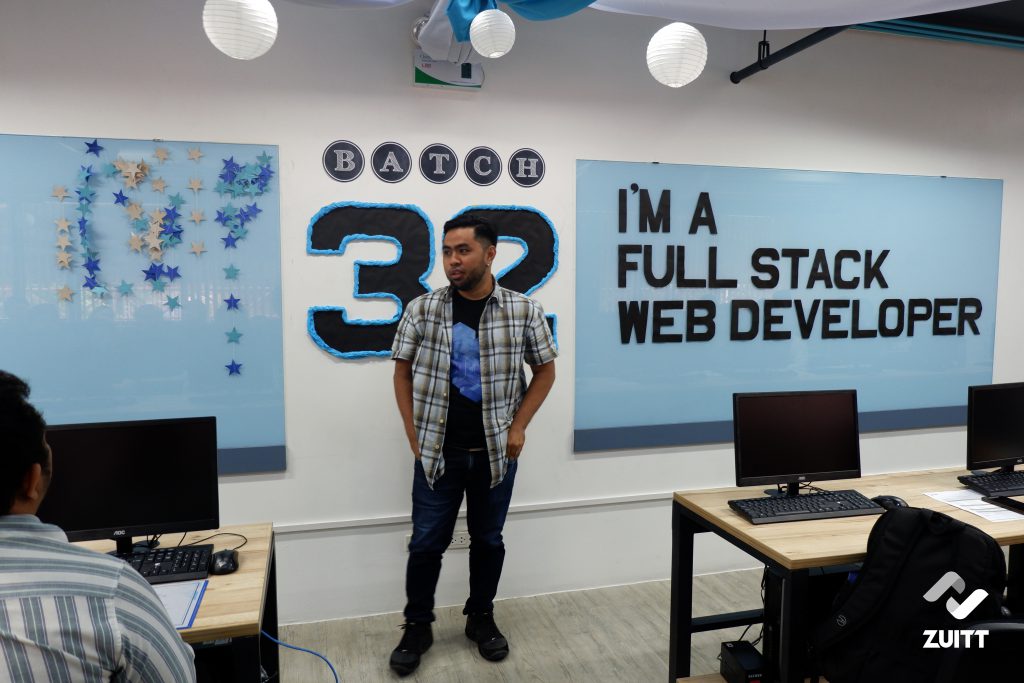 "In reality, you might come across bosses or clients who would shoot down your ideas. I went through this, but the experience helped me work on my skills more." 
He also added that, "In the real world, all of us are equals. But make sure to always highlight your skills and learnings. Be yourself. Be honest."
To wrap it up, he ended with a short but sweet message: "Ipunin niyo lahat ng natutunan niyo, tska niyo isapuso at isaisip."
Top Academic Performers
Last but not the least, it was time to give recognition to the students who gave it their all during the 3-month training. Sir Alfred handed the certificates as the class cheered on their peers. 
These are Batch 32 Day Class' Top Academic Performers:

3RD TOP ACADEMIC PERFORMER: Elexor D.
2ND TOP ACADEMIC PERFORMER: Daryl R.
1ST TOP ACADEMIC PERFORMER: Shane A.
Closing Remarks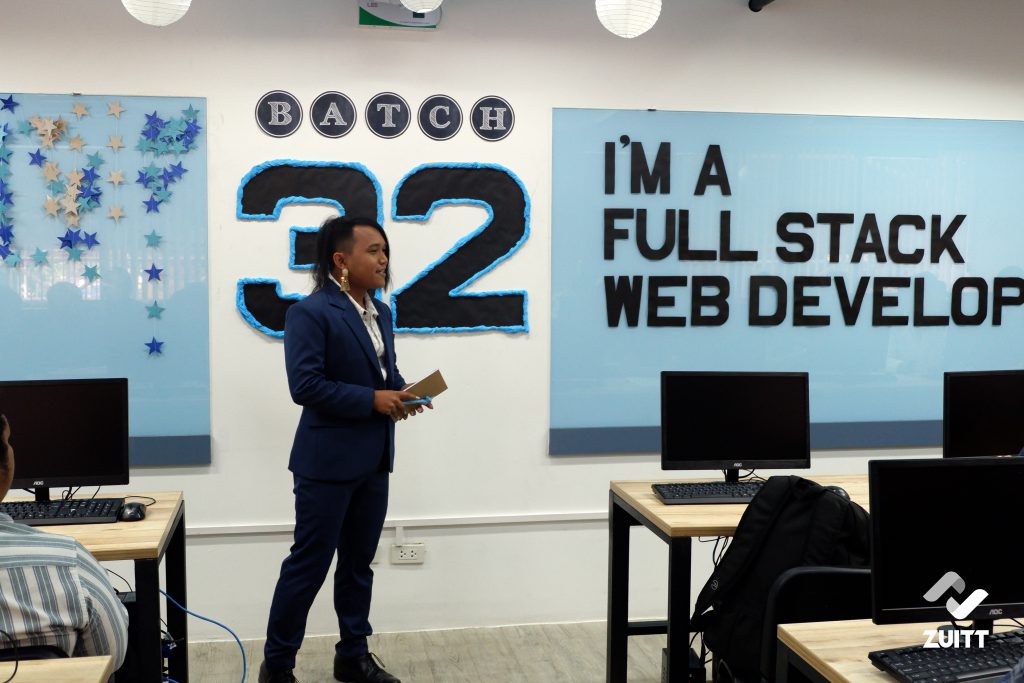 To conclude the graduation rites, Instructor Alfred Panes took on the stage. 
"The world is gonna be harsh from now on. But that doesn't have to be your story. Yes, people will sometimes discourage you. You will encounter a lot of failures. But what do you do? You rise from it and move on." He told the class as they all listened on. "Again, congratulations for graduating!"
It was the students' time to give back. As a sign of their gratitude and appreciation, a representative from the class handed Mr. Panes a token. 
With that, the hosts concluded the ceremony. The celebration ended with the sharing of a savory feast.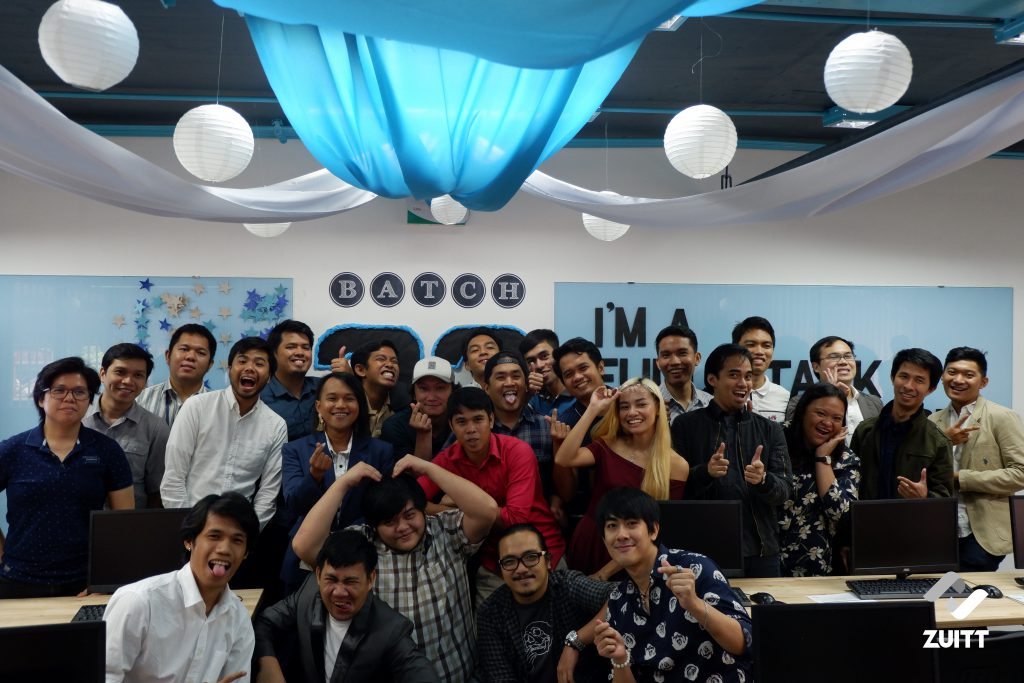 Congratulations once again to the graduates of the 32nd Batch of Day Classes! We wish you all the best in your IT careers!