Everyone has their own story about how they've come to love coding.
Maybe as a kid you have watched something from a cool action movie where there is this nerdy guy who looks hard on his computer screen while typing, and however his work goes becomes the make or break of the climax.
That could be the reason why you started thinking, "I want to be just like them." And so you encountered "coding" and started to learn it. Others might have a different story, of course.
Recall that particular time when you finally learn how to code. Recall that time when you first accomplished a project. What were those small coding victories that kept you going? And how did those victories make you want to learn more about coding?
What was that particular moment when you started telling yourself "Ah! I love coding!" or "Wow, I am good at this!" Are you still feeling the same excitement you felt back when you first started to learn coding? When was the last time you felt good about your output?
So if coding feels like a "job" already and not something you do because you're passionate about it, then pause and ponder. Are you questioning yourself, "Why did I ever decide to make coding something I would do everyday as a job?"
If that hits home so hard, then maybe it's time to remember why you love to code.
Remembering your coding story
Reminding yourself about your coding journey and why you love to code can give you insights about your next strategies in life.
How were things when you are still starting? Was there excitement or frustration? Were you in love with your knowledge in coding? Did it make you feel cool? Your emotions towards something you do can make an impact on how you decide on things.
Things like: Are you still going to work at that same job for the next few years? Should you learn a new programming language? How will you advance your coding skills?
Rekindle your passion for coding
It's time to dig deep.
Go through your timeline and commend yourself for coming this far. Remember your reason, your purpose, and your big why. Why do you love to code? Why did you start to learn how to code?
Reasons why you should recall why you love to code:
Work Burnout
At work, you could be handling a big project, and it's not just the workload that is stressing you out, there are also other factors that make the work so exhausting.
You could be drained. You still love your job, you still love what you do, but the workload is too draining.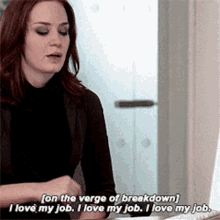 We sometimes mismatch our feelings for a particular thing from some other external factors.
Left out because of the fast-paced tech world
If you have gone a long way, and you have been in the IT industry for the longest time, but then you feel like that the new stuff is too advanced for you, what can you do?
Doubts sink in when you start to think that your knowledge in coding is withering and that you want to learn the new stuff but you do not have the time to learn it. Maybe you are too busy to study on your own, or to enrol at a coding bootcamp or to read a book about it. 
It is a good thing that you are aware that you are left out and that the solution you have is wanting to learn more to be better in your field. Your next step would be doing something about it.
Keep loving your coding skills
You have to learn to keep loving that skill because coding skills are grand.
Learn a new programming language or create a passion project. Do something interesting that will ignite your love for coding again to keep that fire burning.
If you are wanting to go back to what you have finished in college but don't know where to start, then take a refresher or watch legends like Bill Gates and let them inspire you to go back to coding.
Remind yourself. Help yourself. Work on it. It is good that you are aware that something is missing or if something is not okay. So act and do something about it.
In conclusion, remembering your love for coding is helpful. Going back to how you started and valuing your journey will help you to rekindle your passion for coding.
So, do you still remember why you love to code?