---
Zuitt Coding Bootcamp is known for its beginner-friendly web development training. The Bootcamp has already catered to a number of career shifters coming from different industries such as Engineering, Medicine, Education, Design, and many more. Most career shifters aim to start a new career in Tech by learning Web Development. With Zuitt's Developer Career Program, anyone with or without coding background knowledge can start their career in Tech as a Full Stack Web Developer.
"The Tech Industry is a demanding but also rewarding industry. Tech is something that we always depend on and it's continuing to grow."
Daphne Yatco, a Business Management graduate, became a small business owner and an Interior Design student after college. It was during the pandemic that she discovered that she can acquire good career opportunities in the Tech industry. She was one of the many career shifters globally who had to pause and revisit their career goals. With her friends' influence, she started considering learning Web Development in a Coding Bootcamp to fulfill her dream.
In this interview, Daphne shared her Bootcamp journey as a Career Shifter with Zuitt.
(Interviewed and written by Dana Diaz)
---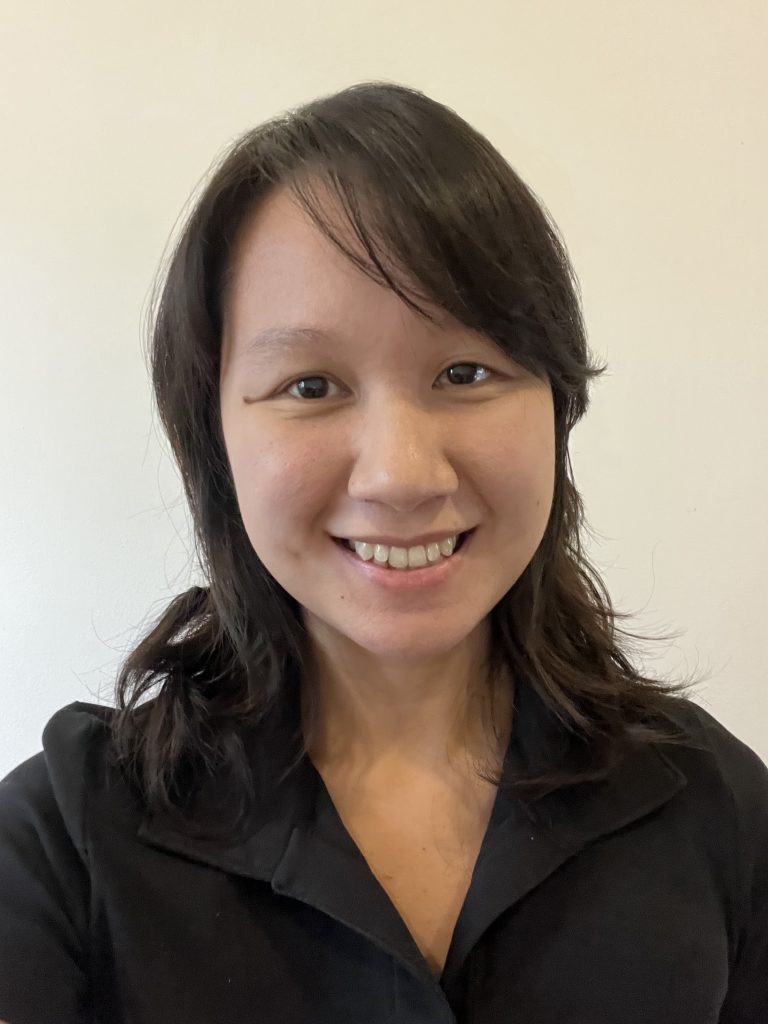 — Introduce yourself to the Zuitt Community.
Hi, I am Daphne. I am a career shifter and a Zuitt graduate from Batch 204. I have a degree in Business Management. After graduating, I decided to take up Interior Design to pursue a career in design. However, the pandemic happened and I had to reevaluate all my goals. During that time, I started a small business. At the same time, I also wanted something more rewarding and that's when I discovered Tech.
---
The Quest to Learn Web Development in a Coding Bootcamp
— Why did you study Web Development and what got you interested in coding?
Daphne Yatco: I realized that I wanted to get into an industry that is in demand and also rewarding. So when I heard that Tech has those qualities, it made sense because almost everyone depends on technology and it's continuing to grow. They say that getting a job in Tech is financially rewarding and that's good. Those were the things that motivated me to study web development and all the other opportunities in Tech.
Prior to Zuitt, I had a little experience with coding in High school. I don't remember much but I remember feeling a little satisfied whenever I get to make the program work. For me, being able to learn more meant that I could be even more fulfilled with what I will be able to do.
— What made you decide to learn in a Coding Bootcamp?
Daphne Yatco: I decided to learn in a coding Bootcamp because I could finish it in a span of 3 months which is a short amount of time. For me, it's a good thing because I would be able to graduate and find a job as soon as possible. I looked up different web development Bootcamps but then I found that Zuitt looked the most professional. They also mentioned that they are globally competitive. I saw that they are already established in the Philippines. That is one of the things that led me to Zuitt, but what made me push through with Zuitt was that they have Career Advisors who will help me achieve my goals. 
— What were your expectations before starting the Bootcamp with Zuitt?
Daphne Yatco: Before starting with Zuitt, I expected that the Bootcamp would help me achieve my goal of getting a job in Tech, of course. But because it is also a Bootcamp, the courses are compressed. That's why I expect that it will be challenging but also rewarding if I go through everything. I was very excited because I was going to learn a lot of things as someone having almost no background knowledge in Tech.
— What was your overall experience while you were working through your Frontend, Backend, and Full Stack courses in Zuitt's Developer Career Program?
Daphne Yatco: My Developer Career Program training experience was both challenging and inspiring. I spent most of the time debugging my code. Whenever I could find the solution, I felt really proud of myself. I am still amazed by how much we have learned. I went from being clueless about what all those colorful words meant to be able to create a webpage out of those colorful words. 
I think my favorite project would be the one for the front-end course where we had to make a portfolio for ourselves as Web Developer. As a visual person, I enjoyed conceptualizing how it's gonna look and then also executing the designs in code. It was just really amazing how out of the words we type, designs can come out on the screen. I was also thrilled to be able to share it with the class. Hearing all the positive comments was really fulfilling. 
After that experience, and after going through the more logical things – like the Backend and the Full Stack, I knew that I wanted to pursue a career in Frontend development. Overall, I was happy that we got to see what all of our batchmates created. It was inspiring to see what different people can come up with given the same tools.
— Do you have a favorite memory with Zuitt?
Daphne Yatco: I think for me the most memorable experience was presenting my capstone 1 where we had to make our own digital portfolio. It was just really nice being able to show the class what I made and then seeing what they made also. It's very inspiring for me as a visual person.
— Are there any challenges for you during those capstone-making projects?
Daphne Yatco: The biggest challenge would definitely be debugging. It took up a lot of my time. There were instances where I got errors and then I would get stuck trying to solve the problem. Thankfully, I could turn to my classmates or to Google for help. I think it was important that I allocated time to solve the problems because that really helped me. I think the most important thing also is believing you can solve it – the self-motivation, and the pep talk, were a few of the things Zuitt Bootcamp taught me.
---
Career Shifters Learn Better with a Community
— What was your best learning during the Bootcamp?
Daphne Yatco: One of the most important things I learned in the Bootcamp that I can also apply to real life is just not giving up and really believing that I can find solutions to the problems and that everything will work out. The best learning is working on my self-motivation.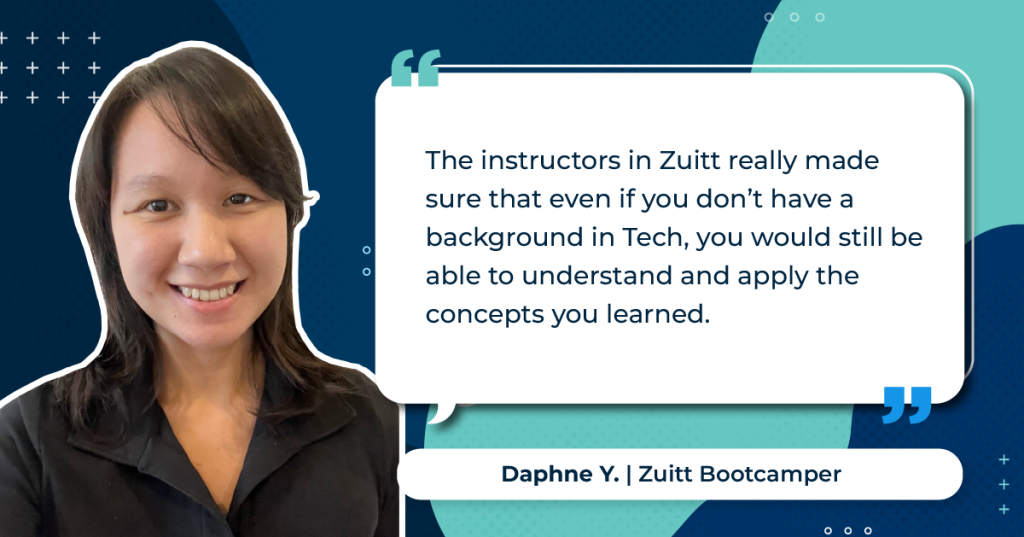 — As a career shifter, what was it like for you to learn with those who have a coding background or those who are already in the Tech field?
Daphne Yatco: Having no background in Tech and knowing that some of my colleagues already have a background in Tech, it was a bit pressuring for me at first. I was thinking that maybe I'm dragging the class down because I take longer to understand some concepts. The instructors in Zuitt really made sure that even if you don't have a background in Tech, you would still be able to understand and apply the concepts you learned. 
— What is your message to your Zuitt instructors?
Daphne Yatco: To Ms. Miah, Sir Raf, Sir Jino, and all the other many instructors that we had thank you. I don't know how you all stay patient with us. We never got to see each other face-to-face but we learned so much. I am truly grateful that you helped our developer dreams become a reality. 
— What's next for you after your Bootcamp with Zuitt?
Daphne Yatco: I am currently polishing my portfolio prior to applying for a job. As a career shifter, I have no work experience in Tech which means that it is very important to have a solid portfolio. From what I have mentioned earlier, I have a project section in my portfolio where I had to place mock projects. Before Zuitt, I did not have the skills to make those projects. After graduating from Zuitt, and after learning everything, I now have the skills to make those "mock projects." That is what I am currently working on.
The apps that I have been working on in my portfolio are related to Interior Design – like tools that can make the job of interior designers easier. For example, one of the apps is a Tile Calculator (It computes how many tiles you need given a floor area.) The app is already finished. It's functional already but I am really taking my time to make it look visually appealing. I am excited to launch my portfolio because this particular app will be featured there.
I have taken a look at the jobs available out there and it looks like there are a lot of opportunities. Once I finish working on what I want to present to the employers, and with the guidance of my career advisor from Zuitt, I am confident that I will find something for myself. 
—  Are there any training that you are interested in tapping into in the next few years?
Daphne Yatco:  I would be interested in taking front-end-related courses like animation. I want to know how I will do that in code. I think for me it is mostly front-end because that is the career that I am pursuing. 
— What are your words of wisdom to Zuitt's future boot campers?
Daphne Yatco:  To the future boot campers of Zuitt, don't give up. You'll definitely come across difficulties but always believe that you will find the solution. Take a break. Consult with your peers or with Google. Do the bare minimum first, and when you accomplish that, congratulate yourself. If you still have the energy, then aim for excellence.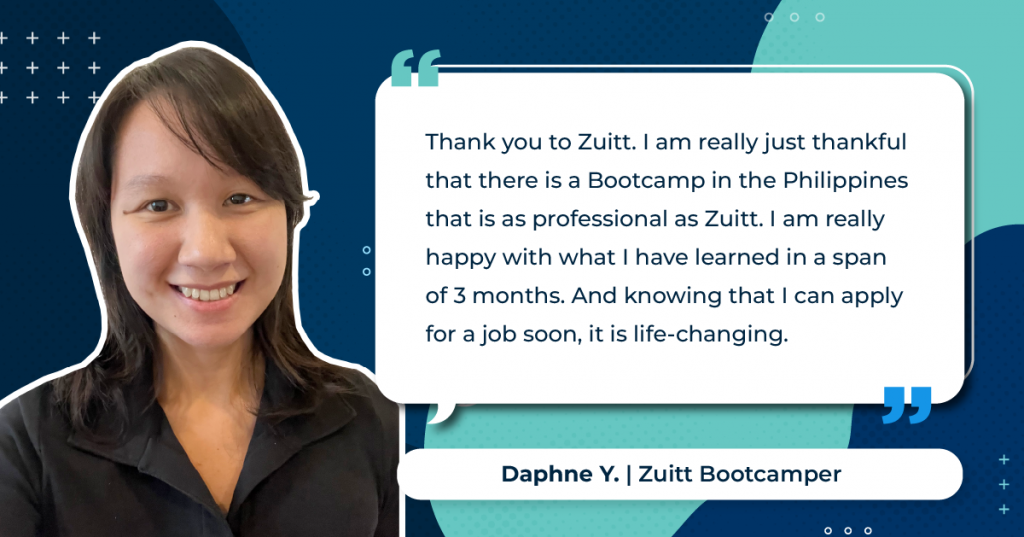 — What is the best thing about Zuitt for you?
Daphne Yatco:  The best thing about Zuitt for me would be the staff. They have been very supportive, not only while I was studying, but more importantly after I graduated. All of their check-ins and their advice had really been motivating for me to continue pursuing a career in Tech. 
Thank you to Zuitt. I am really just thankful that there is a Bootcamp in the Philippines that is as professional as Zuitt. I am really happy with what I have learned in Zuitt in a span of 3 months. And knowing that I can apply for a job soon, it is life-changing.
(End of interview)
---
If you have a similar experience to share with our boot campers, drop us a message at marketing@zuitt.co.