---
Today's job market continuously evolves. And because of that, it's been common for professionals to seek new avenues and explore fresh opportunities.
Mae previously studied Information Technology, but some circumstances prevented her from completing her degree. Throughout the years, she gained valuable experience as a Supervisor in a BPO company and also worked as a Virtual Assistant and a Technical Recruiter as a freelancer.
Mae's decision to pursue Full Stack Web Development was driven by her passion for the field. She has been witnessing the industry's potential apart from the lucrative rates offered to skilled developers her current company is looking for.
As the breadwinner in her family, Mae recognized that a career as a Full Stack Web Developer would not only provide financial stability for her family but also offer tremendous professional growth opportunities for her.
This is an inspiring story of an adept HR manager who transformed her professional trajectory of becoming a Full Stack Web Developer, aiming to make a mark in the world of Game Development.
---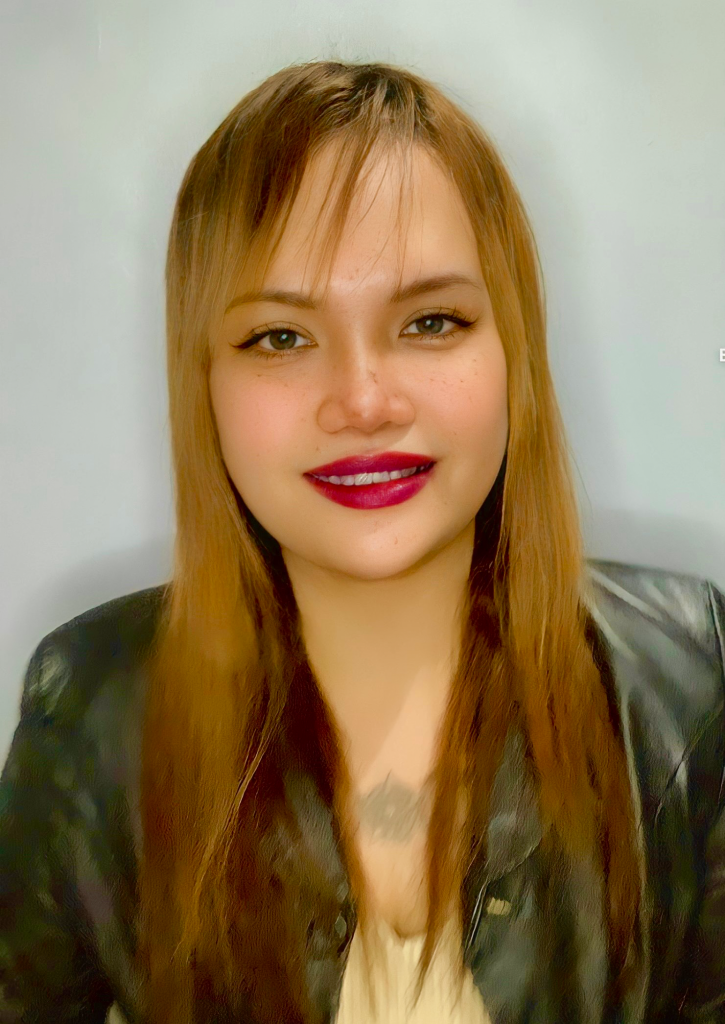 – Introduce yourself to the Zuitt Community.
Mae Sargento: Hi, everyone! My name is Mae. I'm an HR Manager. I recently finished my Developer Career Program in Zuitt last October 20, 2022. I'm a part-time boot camper. I studied Information Technology back in 2010, but I wasn't able to finish that course. I only took it for a year or two then I started working in the BPO industry from 2010 to 2020. When the pandemic hit, we started working from home. I resigned from my previous job as a Supervisor in a BPO company. I started freelancing and worked as a Virtual Assistant for a Real Estate company for a few years. I also did freelancing as a Technical Recruiter. Now, I'm part of an HR team at my current company.
---
A Journey of Passion, Determination, and Career Growth
– Why did you study Web Development?
Mae Sargento: I took Information Technology when I was in college. I really wanted to develop websites and apps. The reason why I wanted to study Web Development is because I was a Technical Recruiter. I've been sourcing for developers like Full Stack developers, Front-end developers, Back-end developers, and Mobile developers. I saw that the salary rate of developers is more than enough to sustain a big family. And since I am the breadwinner in my family, I aimed to have the skills of a programmer so I can eventually have that big of a salary ranging from $50 – $100 per hour.
I also want to explore more opportunities in the Tech Industry because being a Web Developer is broad, and there are still a lot of career opportunities waiting for me in Tech. I want to learn as much as I can so that I can pursue a career in Web Development. I am doing this for my family, especially my kids. I am doing this for their future.
– Did you try to do self-study before the Bootcamp?
Mae Sargento: I enrolled in some online courses like Udemy and Coursera. In my case, I really can't learn if there's no one teaching me. I needed the guidance of an instructor. I tried learning on my own through these short courses, but I just ended up feeling lazy to read and learn on my own. When I joined Zuitt, there is an instructor who can engage with the whole class during the discussion, and I didn't feel sleepy at all in the classes.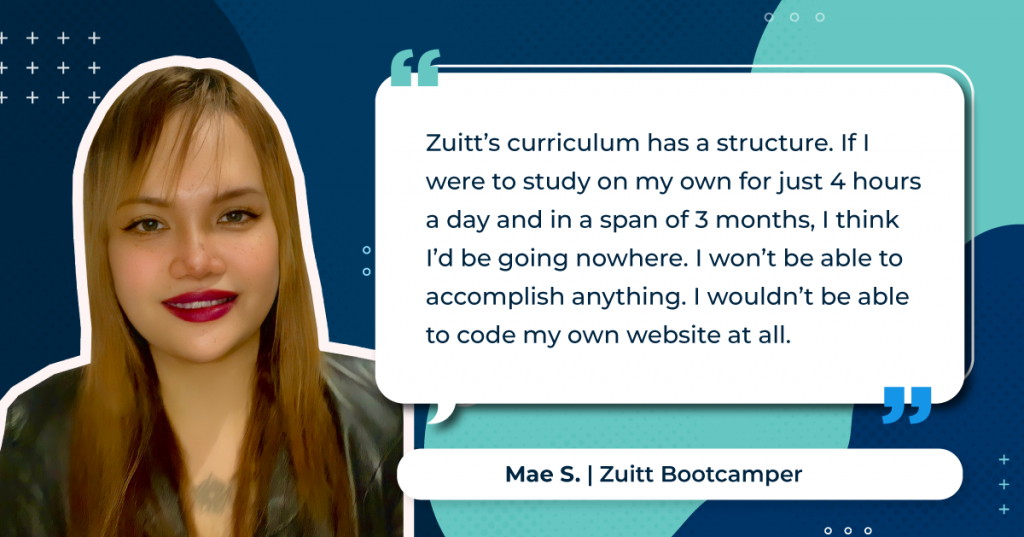 – What is the best thing about Zuitt's curriculum?
Mae Sargento: All of it. I have mentioned earlier that I studied way back in 2010, so whatever it was that I learned years ago, like HTML or the visual basic turbo C++, and others, I honestly and really can't remember anymore. It was 13 years ago, and I am back to zero. It's true that if you don't practice what you have learned, you will eventually forget it.
What I like the most about Zuitt's curriculum is that every step of the way, the instructors are always there to help you. They can explain things in layman's terms when you don't understand a particular lesson. Also, if you have questions after the class, they will really help you answer the question you have in mind. Even if they have other tasks as well, they still find time to provide you with the answers that you need. The lessons have a designated activity. The instructors teach us step-by-step how to do things before they give us an activity that we can practice on. They help us figure out how to code the solutions for each activity. The best thing about the curriculum is that it covered everything from HTML to ReactJs.
Zuitt's curriculum has a structure. If I were to study on my own for just 4 hours a day and in a span of 3 months, I think I'd be going nowhere. I won't be able to accomplish anything. I wouldn't be able to code my own website at all.
– What can you say about Zuitt Instructors?
Mae Sargento: Our instructors were very patient with us. I think 90% of us are career shifters. Most of us have zero knowledge. When we started with HTML, CSS, and Bootstrap, they really taught us how things are done step by step. At times when we encounter issues with our code, we are also taught how to debug. If one of us needs help, we are encouraged to share our screens so that the whole class can check together. This can help others who are also experiencing the same errors in their code. And since this is how things are done in the class, it taught us how to debug on our own.
One more good experience with my Zuitt instructors is seeing how dedicated they are to their jobs. When I was learning JavaScript, I was really having a hard time. Thankfully, my instructors were willing to help me out even after class hours. I eventually got things done for my capstone project. I appreciate that type of dedication the most.
– How was your experience with your co-bootcampers? How was it learning with people of different backgrounds?
Mae Sargento: It was actually fun. My classmates were fun. I have classmates who have coding experience too. They joined the Bootcamp to refresh their knowledge and to learn new tech stacks. It was so much fun because we all help out each other whenever one of us encounters an error. We talk in our group chat and help each other with debugging too.
There is this sense of bonding in our class even though we've all just met virtually. We're actually planning to create a company or a business where we all can be developers. Hopefully, we can start that in a year or two. We just have to gain experience.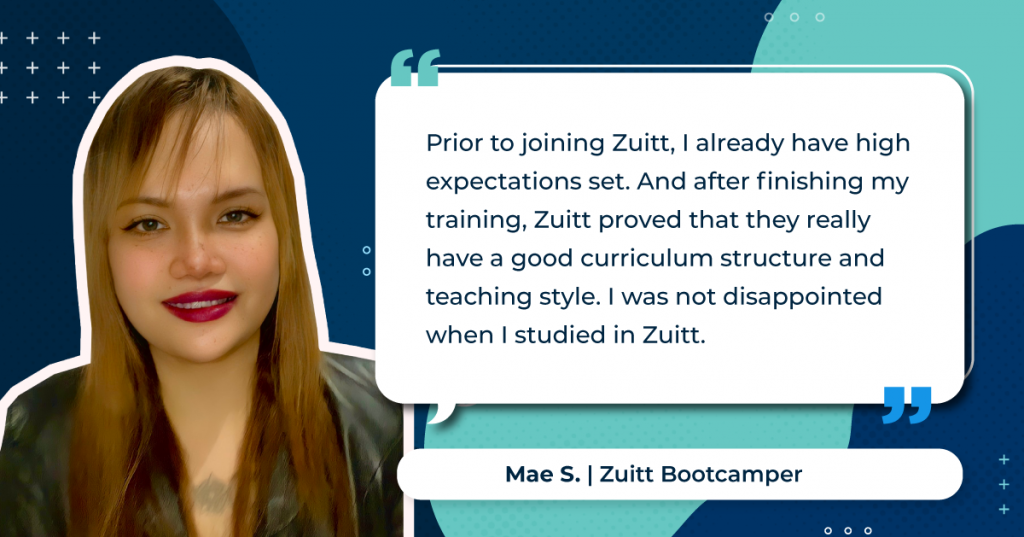 – What were your expectations before starting your Bootcamp training with Zuitt?
Mae Sargento: Actually, my expectations were high.
In my current company, apart from my role as an HR manager, it is also my role to look for Front-end developers, Back-end developers, and Full Stack developers. While searching, most of the candidates that I interviewed were bootcampers. They all have impressive backgrounds after they finished their Bootcamp training.
One of our Front-end developers was a Zuitt bootcamper. He recommended Zuitt to me and mentioned that it is a good Bootcamp. Seeing what my company is offering for those positions – which is really a big salary, I am really eager to learn. I want to be a part of that field. He also shared with me that he knows someone who was a nurse – without any coding background, who joined Zuitt. After finishing the Bootcamp with Zuitt, that former nurse was able to create websites, and now he's one of the successful developers here in the Philippines.
My expectation from Zuitt went higher. Some of the candidates that I interviewed attended Zuitt. I could say that they all have impressive backgrounds. From there, I was convinced that Zuitt can provide quality education for aspiring web developers.
Prior to joining Zuitt, I already have high expectations set. And after finishing my training, Zuitt proved that they really have a good curriculum structure and teaching style. I was not disappointed when I studied in Zuitt.
---
Unveiling the Dream of Becoming a Game Developer
– What is your career goal?
Mae Sargento: My goal is to become a Game Developer. I'm a gamer, and there's this certain game that I wanted to develop; however, I still need experience before I can do that. In Game Development, the developers are using a different language.
– If you are to create a game, what type of game do you want to develop?
Mae Sargento: I want to develop a game like "Rising Force." It is an MMORPG type of game. It's something like Mobile Legends, but it doesn't end in one game. It's a continuous game – you have to farm for your items, and you can also use the money to avail end game items. Also, PvP games because I enjoy that. I checked how much it is to buy a server and what tools are needed for me to be able to build that. The main tool that they use for that is SQL. That's why I enrolled in Zuitt's PHP short course after my bootcamp training.
– Are there any other tools that you need to study in order for you to create the game that you want?
Mae Sargento: Actually, what I know for now is MySQL. I think the programming language used in most games is C++. I do have a background in turbo C++, but that's way back in 2010. I can't remember a thing about it, to be honest. '
I spoke to one of the developers of the game I was talking about earlier. I am hopeful that someday when they launch a new game, I would be one of the developers on their lineup. I mentioned to them that I am not an experienced developer. I just want to shadow their current developers so that in the future, if I were to make my own server, I would be able to do it.
– What are you hoping to accomplish for yourself in the next years?
Mae Sargento: Since my goal is to create my own server, I am hopeful that I can become a server owner or a server developer of one of the games I like. I want to build apps that could help my role as an HR manager. I am looking into creating applications for generating payslips. There are existing applications in the market, but it's all just too expensive. The subscription is too pricey, and most of the features are not even utilized. That's why I want to create a personalized one, and I will only include functions that will be really useful for me and my team. Lastly, I want to claim that in 5 years' time, I will be a successful Web Developer, Game Developer, and Mobile App Developer. I am manifesting that.
(End of interview)
---
If you have a similar experience to share with our boot campers, drop us a message at marketing@zuitt.co.