---
Rafael is a graduate of the University of the Philippines – Diliman with a degree in Architecture. He worked as a Junior Architect at Common Sense Studio for a year. When the pandemic hit, he ventured into freelance work doing Interior and Graphic Design projects.
In 2022, Rafael enrolled at Zuitt Coding Bootcamp where he further expanded his skill set. As a Career Shifter, one of the notable aspects of his bootcamper story was his exceptional performance in the capstone projects bagging all three Best Capstone Awards from his batch.
Rafael also co-owns a business that provides shuttle and transport services. Now that he is equipped with the needed knowledge as a Full Stack Web Developer, his main goal is to enhance the business' customer experience by developing a booking system that would streamline and elevate the efficiency of their operations.
In this article, we delve deeper into Rafael's redefined trajectory in his career — from his formative years at UP Diliman to his ventures in Architecture, Interior and Graphic Design, Entrepreneurship, and Web Development.
---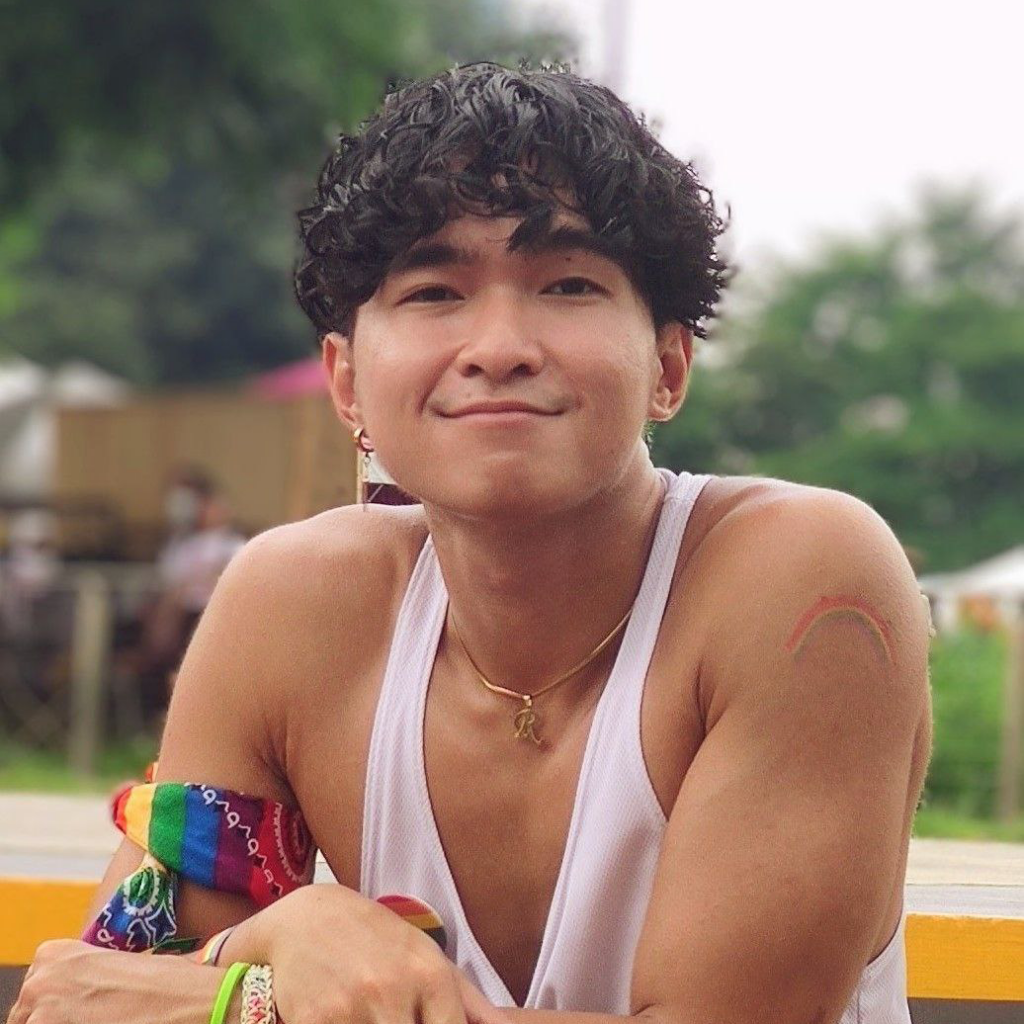 —— Introduce yourself to the Zuitt Community
Rafael Santillan: Hi! I'm Rafael. I'm a graduate of Zuitt Coding Bootcamp (Batch 204). I graduated from the University of the Philippines with a degree in Bachelor of Science in Architecture. I worked for a year in the field of Architecture. I also started to do freelance work involving Interior Design and Graphic Design jobs.
---
Expanding Design Career Horizons through Web Development
—— What got you interested in Web Development?
Rafael Santillan: My passion for creating started with Graphic Design and Interior Design. I translated that passion into Web Development because I wanted to create something that's more interactive as some sort of media or outlet that is more future-proof. Ever since the pandemic hit, these fields started to decline, and I had to look out for myself. I started to be interested in how websites work and how web applications work. From that idea, I started to research it and wondered if this line of work would be possible for me. I started asking my friends who were also in the same situation as I was. I found out about Zuitt from one of my friends. I took a leap of faith and started my career journey here in Zuitt.
—— What made you decide to choose Zuitt to achieve your goal?
Rafael Santillan: As I have said, a good friend recommended Zuitt to me. She was a former bootcamper of Zuitt and is now doing a freelance job as a web developer. Right after she mentioned Zuitt to me, I did my research and found out that Zuitt is a very reputable company with many bootcamper success stories. And that's why I decided to enroll with Zuitt.
---
Navigating the Bootcamp Experience with Zuitt
—— What were your expectations before you started with Zuitt?
Rafael Santillan: I am a Career Shifter. At first, I had low expectations. My expectations started to scale up as I was taking Zuitt's Developer Career Program. I am amazed at how far the program got me from where I started to where I'm at right now.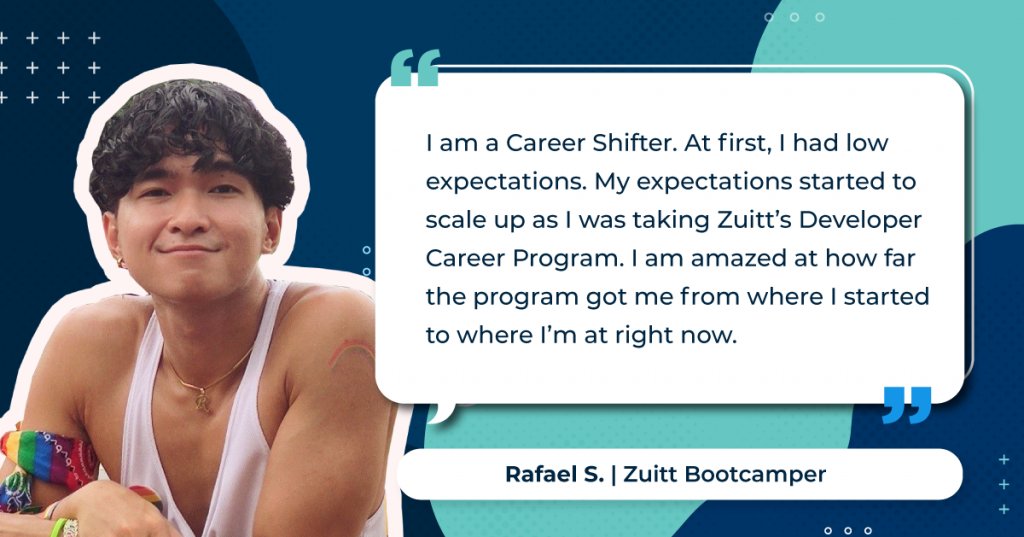 —— How was your experience learning from Zuitt instructors
Rafael Santillan: What I like most about my experience with Zuitt instructors is that they don't just teach you the code alone. They also gave us activities to stimulate our learning even further. We were given real-life scenarios. The instructors tell us that's how they do it in the field. They don't just give us the answers right away, and they also teach us the ideas and the root of the problem to get to the solution. It was up to us mostly, and that was the best part. I really liked that because I learned how to trust myself and also trust the process of coding.
—— How was your experience with Zuitt's Developer Career Program?
Rafael Santillan: The journey was quite the ride for me because the program was broken into three portions: Front-end, Back-end, and Full stack.
Front-end. I find this course very enjoyable. As a visual person, I could translate my ideas into designs once I plug them into my code. This part was the easiest for me.
Back-end. Moving on to the back-end course was a very different story because everything in this part was just code, code, and code. You get results that are not very visual at all. It was mostly functions like login features, automation, and passwords (mostly behind-the-scenes stuff). I had to work double time to try and catch up with what the instructors were teaching.
Full stack. It all came together when we started to do a Full stack. This is when both the front-end and back-end start to mesh together harmoniously.
Every time we had a capstone project presentation, I really devoted my weekend to creating my projects because I wanted to create something I could be proud of. I didn't want to just tick off the boxes. I wanted to go above and beyond. I was surprised when I found out that I was awarded as Best Capstone Awardee of all three capstone project presentations. It was a full-circle moment for me. It gave me the motivation that I can succeed in this field.
—— What is the best thing about Zuitt?
Rafael Santillan: The best thing about Zuitt is the learning process that they teach their students. As I've said, you start with coding alone and end up doing the code by yourself. With Zuitt, you will be guided all throughout. They share real-life scenarios and teach you how to go about it like how things are in the actual field. That is what I appreciate the most about Zuitt.
—— Do you have any personal projects related to coding?
Rafael Santillan: Currently, I co-own a business that is mainly transport-oriented. We started just a year ago. We provide shuttle and transport services to companies. My goal this year is to make our own booking application for the business. This will be my passion project while I look for a job as a web developer.
---
Guidance for Those Embarking on a Career Transition
—— As a Career Shifter, what is your message to people planning to career shift to Tech Industry?
Rafael Santillan: Hi, guys! My advice for you is to trust the process and trust yourself. As a career shifter myself, I believe that you should appreciate the process of doing something because once you trust the process of trusting yourself, things will come smoothly. Always think about your starting point and think about where you are right now. Always have your own back whenever you need it. Be appreciative of how you started this journey. As for me, knowing that I knew nothing about this when I started, I am now surprised at myself for reaching such a milestone in Zuitt's program. Once you set your mind to it, remember not to let your frustrations and your own doubts get in the way. Believe in yourself and trust the process.
—— What is your message to Zuitt?
Rafael Santillan: I am very thankful for the opportunity and the journey Zuitt has given me. Now that I am starting my career in Tech, I am looking forward to learning a lot more. Thank you Zuitt for giving me the jumpstart in this career.
(End of interview)
---
If you have a similar experience to share with our boot campers, drop us a message at marketing@zuitt.co.