---
Zuitt Coding Bootcamp teamed up with Kalibrr to provide a Free Coding Bootcamp to aspiring individuals who are eager to learn basic web development coding. In another project, Kalibrr collaborated with Zuitt to send out weekly newsletters that include an initiative – sharing of job opportunity updates and career advice articles to support and nurture potential talents in the Tech community.
In this article, Zuitt interviewed Ms. Erica Pascual – the Marketing and Growth Supervisor of Kalibrr, together with Mr. Evans Atandi – the Senior Engineering Manager of Kalibrr to share with us their insights on the future of the Filipino Tech Community. With the recent Kalibrr trends, they will discuss the trajectory of major tech roles, marketable skill-set, and even the most common Tech employer demands in the Philippines.
(Inputs by Erica Pascual – Marketing and Growth Supervisor, and Evans Atandi – Senior Engineering Manager of Kalibrr)
(Interviewed by Adrianne Saldua; Written by Dana Diaz)
---
How Kalibrr supports the future of Tech Careers
—— Introduce Kalibrr to Zuitt's community
[ERICA] Kalibrr is a recruitment technology company. We're based both in the Philippines and Indonesia. What we do is place a premium candidate experience at the heart of everything. We hire quality talents and connect them with companies that are looking for the next generation of leaders. And we don't just stop at hiring! We also provide end-to-end recruitment solutions. In fact, we have expanded into providing other services such as employer branding and head-hunting employment over the previous years.
Our vision: We want to be the #1 platform for people in Southeast Asia to discover their most fulfilling career opportunities and also to be the #1 platform for companies around the world to find and employ world-class candidates. Everything we've done and accomplished was really to help innovate how people find great talents and how these talents find meaningful career opportunities. Our whole culture and strategy were really designed to help talents engage with companies more meaningfully. And what this means is that when a job-seeker goes to the platform, checks out the job board, and sees roles that are aligned with their previous roles and what they have been searching for – whether it's in Marketing, Tech, Operations, or any other industry, they're not just random jobs mashed together.
Since Kalibrr launched, we were able to gain over 6 million candidates on the platform. That's 6 million job-seekers from two of the largest countries in Southeast Asia – the Philippines and Indonesia. And every day, we are providing global job opportunities for over 500 million people in those countries. Other than that, we are also very proud to mention that we were able to help more than 2 million jobseekers find jobs during the pandemic in both of those countries. That's a big opportunity and also a big achievement for us. Especially last 2021, Kalibrr was recognized as part of the "Forbes Asia 100 to watch" list among other rising small companies and startups in Asia Pacific.
—— What's in store for the Tech Community in the next years?
[ERICA] Tech talents are going to be in demand in the following years as both brands and people pivot towards a more digital lifestyle. Currently, it's been very beneficial that a lot of companies are really invested in developing home-grown tech talents and even providing free Bootcamps similar to what Zuitt does which is basically pushing more people toward the Tech industry. There's a really large need for the Philippines to grow the number of talents who have programming capabilities as more companies are aggressively hiring and trying to keep up with the digital times.
There was a research conducted by Gobi Partners which we participated in. And in this research, it says that the growth of local startups and the supply of junior tech talents aren't aligned right now. Not a lot of people are expressing interest in Data Analytics, Programming, and more Tech roles. Since the Tech community faced some challenges during the pandemic – with all of the challenges that were posted to certain companies, some of these talents may have shifted to other professions instead.
—— On Kalibrr's observation, what Tech careers are highly in-demand?
[ERICA] What we've seen back-end here in Kalibrr, some of the top careers in the IT & Software Industry or Tech Industry are the following: (1) Full Stack Web Developer, (2) Data Engineer, (3) Back-end Developer, (4) DevOps Engineer, (5) Product Manager, (6) Web Developer, (7) Software Engineer, (8) Data Analytics, (9) Java Developer, and (10) Front-end Developer.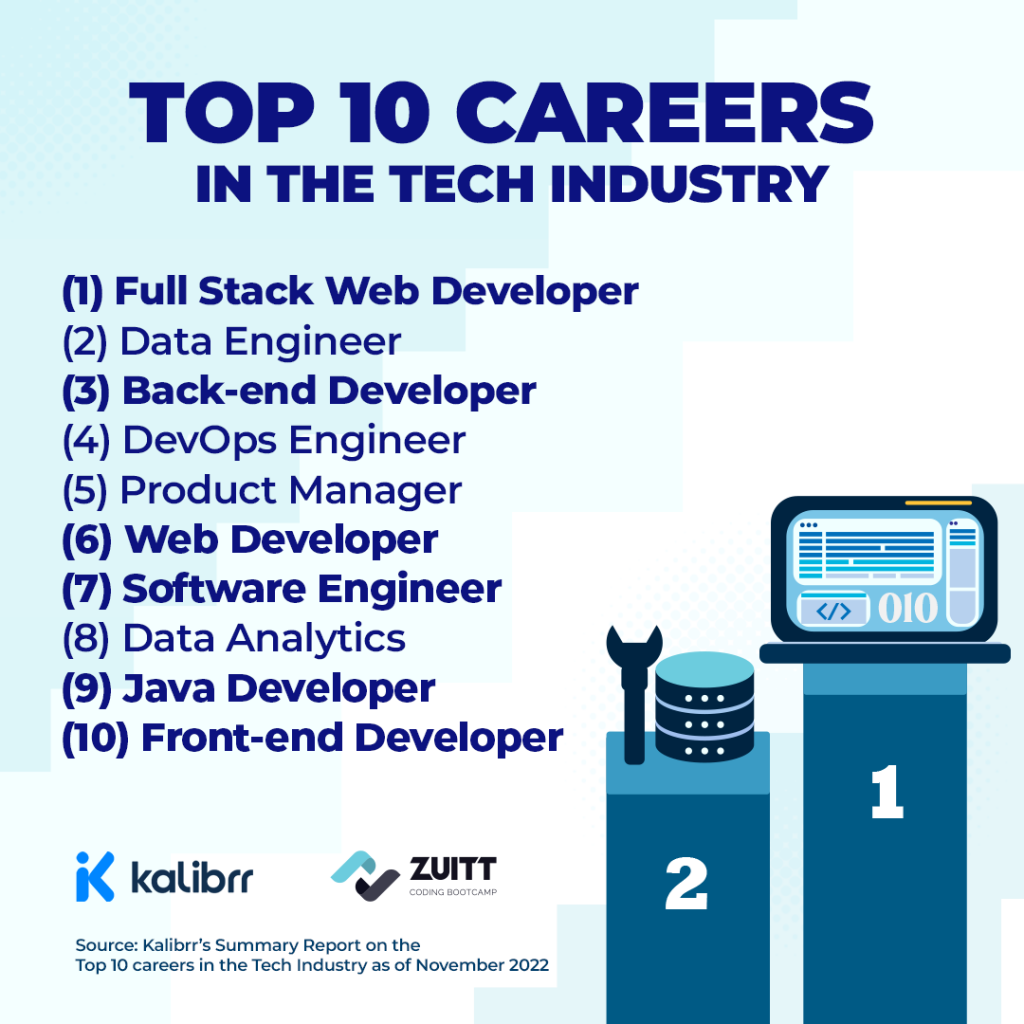 It's a lot but these are only the top 10. What we can say is that it's a mixture of both non-tech and tech jobs that people who didn't even graduate with a degree in IT can apply for. All these opportunities are seen in Kalibrr's platform.
—— What top skills for software and web development are required by most employers?
[EVANS] What a lot of people don't know is that the IT industry is mostly skills-based and not necessarily degree-based. So as long as you take the initiative to learn the necessary skills for the job, then you can get hired.
Zuitt, as an example, is a Bootcamp that can give those sets of skills to elevate you. Then within two months, you can start. I'll give you an example: We have a Psychology graduate who transitioned to be in IT within Kalibrr and he has picked up a very good pace. He took a Bootcamp and now he's already integrated and he managed to transfer those Psychology skills into IT, and he's been fantastic.
In a nutshell, a mix of technical and soft skills is what employers are looking for. And it often depends on what specific software development you are eyeing. So, if you are applying for a developer role, then some specifics in Programming languages are Java, Python, C++ and just to name a few because there are many programming languages. However, if you know the fundamentals of languages, all you have to learn is the syntax and then you can transition easily. Next is security. Security is all connected to the network. Network Engineering (since many companies are transitioning into the cloud right now), Cloud Engineering, and DevOps Engineering are all in high demand – and that's very expected. The next part is DevOps. In DevOps, it means that you understand programming, analysis, testing, and the code.) Then, we have machine learning, which is under the area of artificial intelligence and Data science.
Of these, you can start learning either with a degree or certification from companies like Zuitt and from other online resources. A lot of resources are available online for people to use. For soft skills, some tech companies look for people who have experience in product and project management. There should be a thorough understanding of the software development process and its business aspect of it.
I'd say that what employers are looking for the most is soft skills. I would say above all what really matters is attitude, because skills can be taught. It's the right attitude to be involved and the tenacity to want to learn is what employers want and we have seen that shift.
—— For the Tech career opportunities in the Philippines, how would it look in the next few years? Any trend Kalibrr is seeing?
[EVANS] In the Philippines, there are lots of opportunities for people aspiring to get into Tech.
And based on the research conducted by Gobi Partners where Kalibrr participated, there are a lot of people who are interested in getting into Tech and have the necessary capabilities. This is unsurprising considering jobs in the IT industry pay 80% higher than others. However, the talents here (in the Philippines) are only 0.6% of those that make up the total Programming pool.
This is an opportunity for us to look into the digital native of our generation and those who are aspiring to be Tech professionals. We can help them develop these skills. The country needs to recruit and retain talent – maybe through apprenticeships, internship programs, Bootcamps, Competitions, and building relationships within them from as early as when they are a freshman in universities.
We are seeing trends like us (Philippines) competing with the likes of India, Ukraine, and Russia, and now, the South American market is becoming huge! In the Filipino community, we have only one thing that beats everybody, the tenacity of Filipinos – rising up and never giving up. That's one thing! The talent here needs to be maximized. The never giving up attitude and the relationship that the Philippines is known for. Imagine the tenacity of doing that, the hospitality, and then you having tech skills. You are unbeatable! That's what I would say and that's how Filipinos would make it.
—— Are there any other opportunities for tech careers or tech talents here in the Philippines, especially for graduating students?
[EVANS] For the tech talents we are looking at now, there's a lot of research that has come out. The government of the Philippines is trying to bring in more Tech jobs and they're looking at having at least 3 million jobs by 2026.
The tech talents in high demand are in specialized languages and people are moving into Web Development now. Besides Web Development, people also need to have skills in understanding business analysis – translating business requirements to Tech requirements so that the Programmer can finish the code. It's because of these Programmers, all they do is engineer things. You tell them how and discuss with them the business requirements. Business Analysts bridge that gap. We have Project Managers, and Quality Assurance Engineers too. Some people may overlook this, but no! It is huge. Even now, we look at Google Meet and it's gone through a lot of testing. That's what a QA does. These are the roles that people are unaware are in high demand.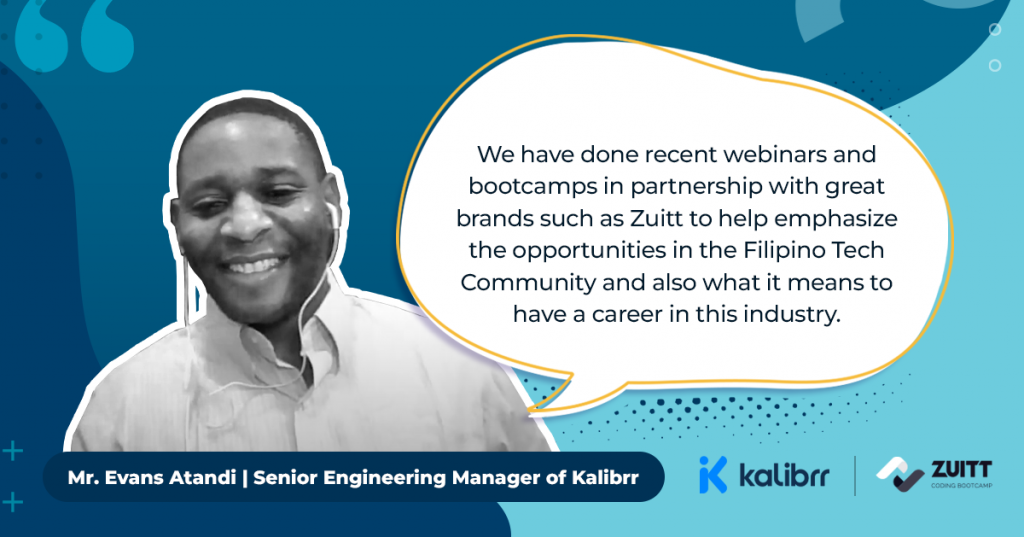 —— Any recent projects or initiatives by Kalibrr to help highlight Tech Careers for the Filipino Tech Community?
[EVANS] Here at Kalibrr, we are always committed to helping more people get hired and encouraging them toward a career path that is meaningful for them. We have done recent webinars and boot camps in partnership with great brands such as Zuitt to help emphasize the opportunities in the Filipino Tech Community and also what it means to have a career in this industry. So far, in our recent webinar "#GenerationHired", we have invited experts from ABS-CBN and other companies to map out their outlook on careers in Tech and share how aspiring Tech individuals can develop the needed skills to get into their desired roles. We are also preparing a lot for 2023! So it's going to be a very exciting year for job seekers both in Tech and Non-Tech industries.
Kalibrr and Zuitt on uplifting each others' Tech Community
—— Why partner with Zuitt? For the Free Coding Bootcamp, how was Zuitt able to help with Kalibrr's initiatives?
[ERICA] Like Evans has mentioned previously, we are committed to helping every Filipino get hired for opportunities that are really meaningful to them. So given that one of the challenges of the community is the limited supply of tech talents, it's really remarkable to be working with another startup like Zuitt which is investing in solving that problem too through its holistic education.
We partnered up with Zuitt because we believe in their mission which is to really help people who really come from both tech and non-tech backgrounds to develop their skills and become programming professionals.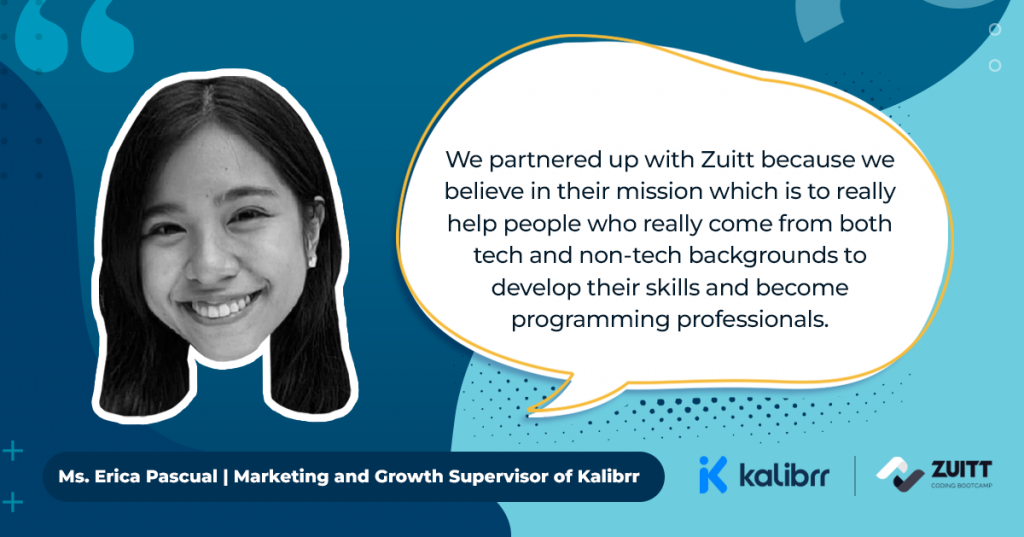 —— What's the best thing about partnering with Zuitt?
[ERICA] We believe in bridging people to job opportunities. And it's not limited to job opportunities but also to education, professional development, and more! It's really anything that would help them become experts or better professionals in their chosen field.
Zuitt was able to help with that through the Free Coding Bootcamp. After all, digital courses and Bootcamps can really support people who don't have a degree in IT. The aspiring talents were really able to immerse in this comprehensive type of education that could really help them jump-start their career in software, web development, and other tech fields through this partnership.
—— We also had another project together – the newsletter sent to the Tech community. How does this help those who are looking for tech-related jobs?
[ERICA] We are really keen on exploring all marketing channels that will help bring job seekers closer to the jobs they always look for. So, how Zuitt was able to help us here was that they were able to help us promote career advice and new tech roles (both remote and on-site roles) which are available on our platform. Now that a lot of people are shifting to return-to-office or hybrid work set-up, they're starting to notice that the daily commute can be really tiring after a long day at work. So, it really helped that Zuitt was able to collaborate with us on promoting these remote roles for those aspiring job-seekers who want to break into Tech.
What's next for Kalibrr?
—— What is Kalibrr working on?
[ERICA] We're cooking up a lot of initiatives for the Filipino Tech community in the next few months similar to what Evans mentioned earlier, especially in 2023! Make sure to stay updated by also following us on our social media accounts and joining our official Facebook group – Kalibrr Community.
We try to promote new jobs in Tech and other industries weekly so you can see global job opportunities from various companies so it's very important for these jobseekers to create their own profile in Kalibrr to apply to these available roles.
—— Are you interested to have the next run of Free Coding Bootcamp or webinars with Zuitt?
[ERICA] Yes, of course! We would be interested in having another Bootcamp or webinar in partnership with Zuitt to bring these job opportunities closer to the Tech Community.
(End of interview)
---
Want to partner with Zuitt for a Free Coding Bootcamp? Drop us an email at marketing@zuitt.co for more information.
Interested to join the next Free Coding Bootcamp? Pre-register here: https://bit.ly/FCB-pre-register