---
Erven, a graduate of Batangas State University with a degree in Information Technology, started his professional career as a Research and Development Engineer at Advance World Solutions after completing Zuitt's Full-Time Bootcamp in February 2023.
The Financial Aid by Employer program not only equipped Erven with essential web development skills but also paved the way for a seamless transition into the industry. Moving from bootcamp graduate to Research and Development Engineer, Erven's journey showcases real achievements made possible by Zuitt's advanced training and the beneficial Financial Aid by Employer program, shaping a successful career path.
---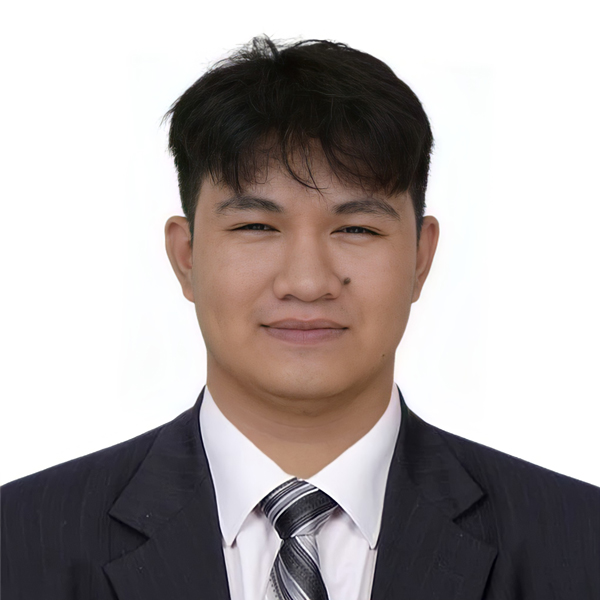 —— Introduce yourself to the Zuitt Community.
Erven Cabral: Hello, Zuitt Community! My name is Erven Joshua Cabral, and I'm a proud graduate of Zuitt's Batch 241 Full-time program under the Financial Aid by Employer program. I earned my degree in BS in Information Technology from Batangas State University. My main interest is technology, which is why I am in the IT industry, creating digital solutions. This passion eventually led me to Zuitt to further my studies in Web Development.
---
Discovery of Zuitt and the Impact of Financial Aid by Employer Program on His Career Path
—— Where did you learn about Zuitt?
Erven Cabral: At the time, I had received two job offers and was in the process of evaluating them. While still exploring other opportunities, because I wasn't satisfied with the initial offers, I came across Zuitt on JobStreet. I was impressed by the program offerings and the location of the sponsoring employer. I qualified for the Financial Aid by Employer (FAE) program.
Initially, I thought that applying for FAE would automatically grant me free bootcamp training at Zuitt, but I later learned that I needed to pass the sponsoring company's assessment first. After successfully passing the assessment, despite facing challenges during the exam, I carefully reviewed the terms and conditions. The company presented a compelling offer. Zuitt provided clear explanations of the entire process, which was highly beneficial. The key reasons I found it appealing were that the job responsibilities aligned with the offered salary, the location was suitable for me, and the benefits met my expectations.
—— What's the best thing about the Financial Aid by Employer program?
Erven Cabral: Being part of the FAE program, I've come to appreciate how valuable this offer is. Who wouldn't appreciate a good, free offer, right? Beyond its cost, I genuinely see it as a comprehensive package. Upon successfully completing the program, you not only gain access to additional short courses but also receive ongoing endorsements for more courses over a span of 2 years. This flexibility allows you to utilize the resources at your own pace, even on weekends, which is incredibly convenient.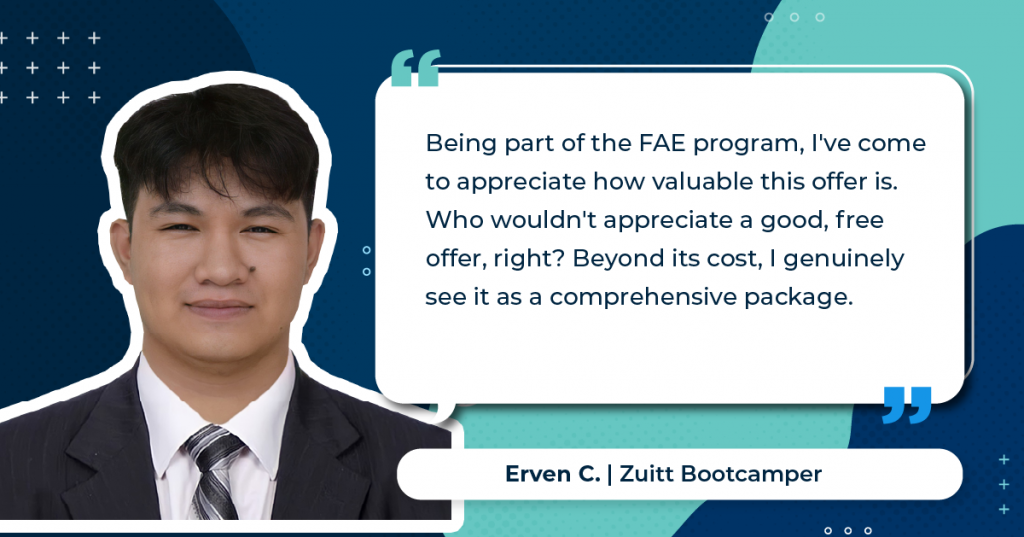 —— Before you started FAE, what were your expectations?
Erven Cabral: My expectations were the same as everyone else's—gaining additional technical skills and building connections with different people. During the process of going to the bootcamp, I could really feel that I was in the right place.
One notable difference from my school experience is the hands-on approach of the instructors, which is excellent. Also, in the activities, you really have to do it yourself, which is great because you need to learn on your own. However, if you have questions, they are very open, which is also a positive aspect of Zuitt.
---
IT Graduate Training for Web Development: A Seamless Transition in Career
—— Has anyone influenced you to pursue Web Development?
Erven Cabral: No one influenced me to pursue Web Development during my college days. It wasn't part of our curriculum either. My main focus in college was embedded software technology, such as C#, C++, and Java. In fact, I had almost no experience in web development. It was only when I got accepted into the bootcamp that I began learning it, and that turned out to be a great decision for me. I realized that being a web developer offers more flexibility than embedded software programming because there are additional steps and technologies involved. Compared to web development, where it's accessible to everyone once you publish it.
—— Do you currently want to focus on Web Development?
Erven Cabral: Right now, yes, because it's very flexible. I recently realized, while studying it, that compared to the technology I learned in college, web development is much more accessible. The technologies I've learned in web development are easier to absorb, and even if I don't work on a project for a month, my knowledge about it won't deteriorate because the syntax and processes in web development are simpler.
—— How was your overall experience? What are the highlights during your training that you want to share?
Erven Cabral: During the creation of capstones 1, 2, and 3, as they were the main focus of the program, I observed that in each discussion with the instructor, they specifically covered what was relevant for that particular capstone. It was very targeted for each capstone, making it less confusing. The curriculum structure is really good.
In capstones 1, 2, and 3, I questioned myself if I could handle full stack, considering that if I failed, I would need to pay the full tuition. I wondered if I could do it. However, during our sessions, I realized that it's a step-by-step process. As you absorb the information, you naturally become accustomed to the full stack.
On the technical side, there were no issues for me since I graduated IT, and I efficiently absorbed the content. However, I faced a challenge with time management because I tended to procrastinate. To cope with it, I started dividing my tasks into smaller ones, and this approach helped me complete the capstone one day ahead of the due date. This gave me extra time to review for errors and potential code changes before the presentation.
—— What advice can you offer to future bootcampers who may encounter similar challenges during their training?
Erven Cabral: What I want to advise is to do your best. When you really want something, you need to pursue it with hard work and genuine enthusiasm. If you don't know something, just ask questions because you won't truly understand it until you question it in your mind. Once you find the answers to your questions, your knowledge expands, and that's something that will help you move forward. You'll be like, "Okay, I can do this! It's just like that."
As a career shifter, these kinds of questions are usually asked by career shifters because they haven't fully adjusted to coding. So, all you really need to do is ask questions to find the answers, and then you can move forward. You don't need to be super intelligent or the best in the room. You just need to be confident in asserting what you want to claim!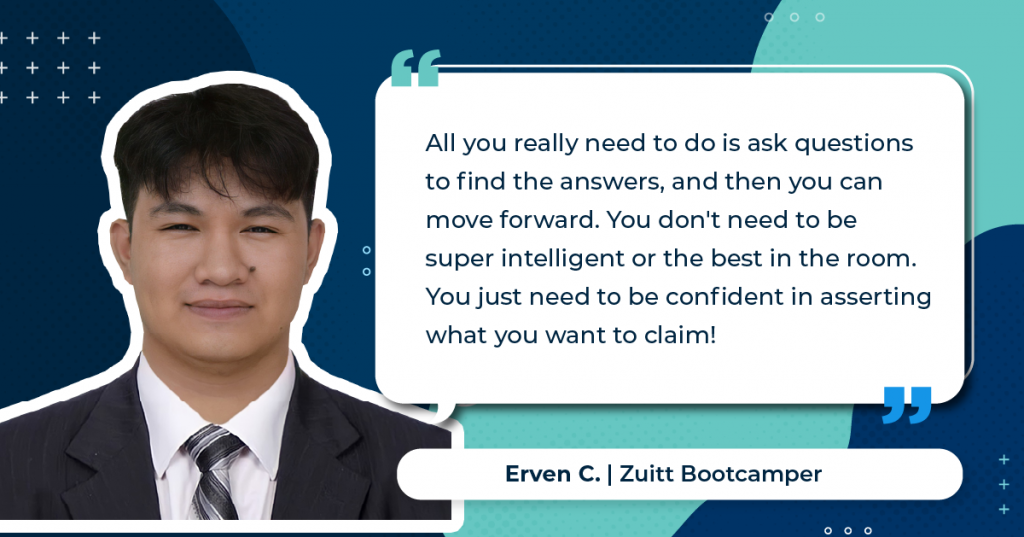 —— What short courses are you planning to take, and which ones have you already completed?
Erven Cabral: What I've taken so far are Java, Spring Boot, and SQL, and what I eventually want to take are Python and PHP. That's what I have in mind at the moment.
---
Securing a Job in a Japanese Company: A Life Goal Achieved
—— How was your experience with AWS during the probationary period?
Erven Cabral: What we're currently doing is still in training for our Japanese exam, which is something I really like. We are encouraged to take a Japanese proficiency exam to enhance our conversations with our Japanese clients. This was a highlight for me when applying to Zuitt and AWS because once you pass, the company covers the expenses. It's not just applicable to one thing; you can also use it in other situations, and the results are very flexible. It's also offered in my current job, and besides the Japanese exam, we also undergo software testing modules for the software text testing examination, which we can eventually take for certifications. There are truly numerous opportunities for us, even for beginners. For Japanese, self-study is essential because our sensei is a native speaker, making it challenging if you haven't studied.
—— What do you like the most being an AWS employee?
Erven Cabral: Apart from the training they provide, I appreciate the fact that they are a Japanese company, and that's a highlight for me. It's good for me because working for a Japanese company is one of my life goals since I have a keen interest in Japanese culture, and I really want to travel to Japan. During the final interview, they mentioned that there could be a chance to be deployed to Japan to work, even though the chances are slim. It's still incredible to have that opportunity.
—— What are your goals as a developer in the next years?
Erven Cabral: Actually, my life goal is somewhat broad. I have a saying that if you're going to dream, why not dream big. I've always dreamed of working for Facebook, and I still have that dream until now. One day, with the Lord's blessing, I hope to work for a big company outside the Philippines because I really like the idea. There are many opportunities, and they only accept the best. I believe I can meet their expectations with hard work and consistency. I genuinely hope to achieve that dream one day, even if it takes several years. I'll work hard for that goal.
—— What's the best thing about Zuitt?
Erven Cabral: The best part was the community. The instructors, the staff, and the fellow bootcampers – their support was very encouraging. They mentioned that we are lifelong partners, so it was very appealing. You can also inquire about short courses, and what I really want to highlight is the instructors. They are truly the best thing about Zuitt.
To all the instructors who guided us, I am very, very thankful to you. You guys were one of the highlights of my transition into the IT industry, and if I ever get a big opportunity in the future, I will never forget you. In my opinion, the instructors in the bootcamp are very professional in imparting their knowledge to us, and it was relevant to the job that I am doing now. If ever I succeed in the future, they are the ones I won't forget, and I believe other bootcampers feel the same way I do.
(End of interview)
---
Erven's journey reminds us that success comes from teamwork, not just individual efforts. For those dreaming of becoming web developers, Erven's story teaches us about staying strong, always learning, and making the most of opportunities.
Do you want your story to be featured next in Zuitt's Bootcamper Stories? Drop us a message at marketing@zuitt.co and let's share your journey with the world!
Zuitt Coding Bootcamp offers a service called Financial Aid by Employers Program where Zuitt helps not only its partner companies with their recruiting and hiring needs, but also individuals who are looking for free full-stack web development training and a job-guaranteed opportunity. This initiative stands as a testament to Zuitt's dedication to bridging the gap between talent and industry needs in the dynamic field of web development.
Just as we supported Erven on his journey, Zuitt can help you achieve your goals too. If you're interested in joining our Financial Aid by Employers program, stay tuned to our social media channels for updates on new partner employers.