On June 21, 2019, Zuitt's 30th batch of bootcampers graduated from the coding bootcamp to start their journey into the IT Industry.
The graduation ceremony was held in ENZO building, Makati City. The graduates and instructors present celebrated the culmination of 3 coding-filled months of learning full stack web development with Zuitt.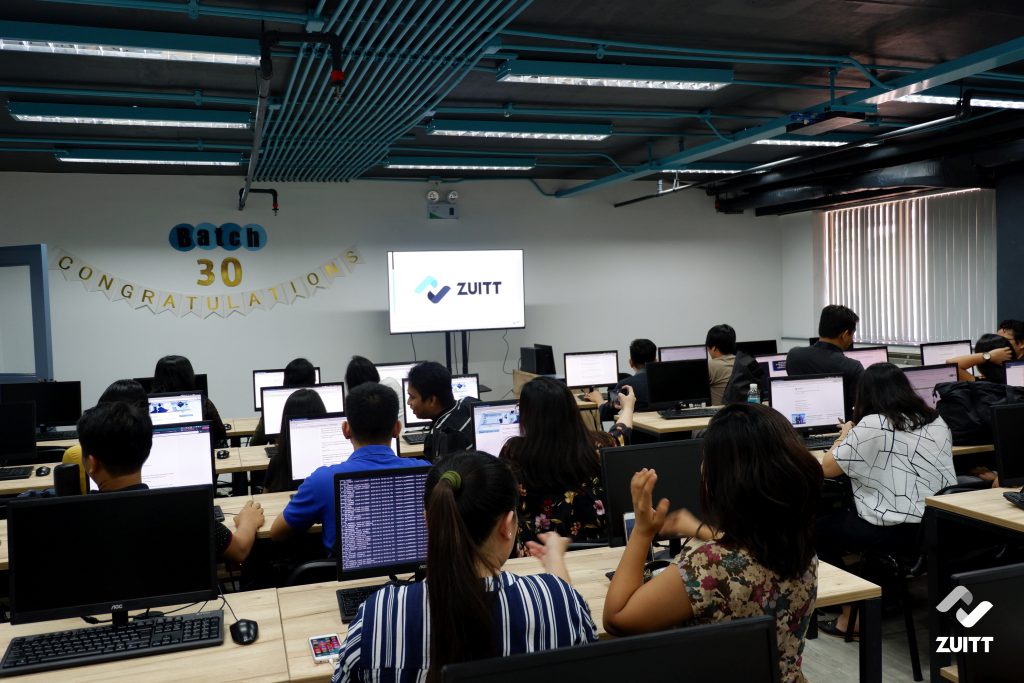 Opening Remarks
Instructor Charles Quimpo started the celebration by congratulating the graduates and by recounting all the hardships they went through to get to this point. "Congratulations! Give yourselves a pat on the back because 3 Months is a very long time and you should all be proud that you made it through the bootcamp."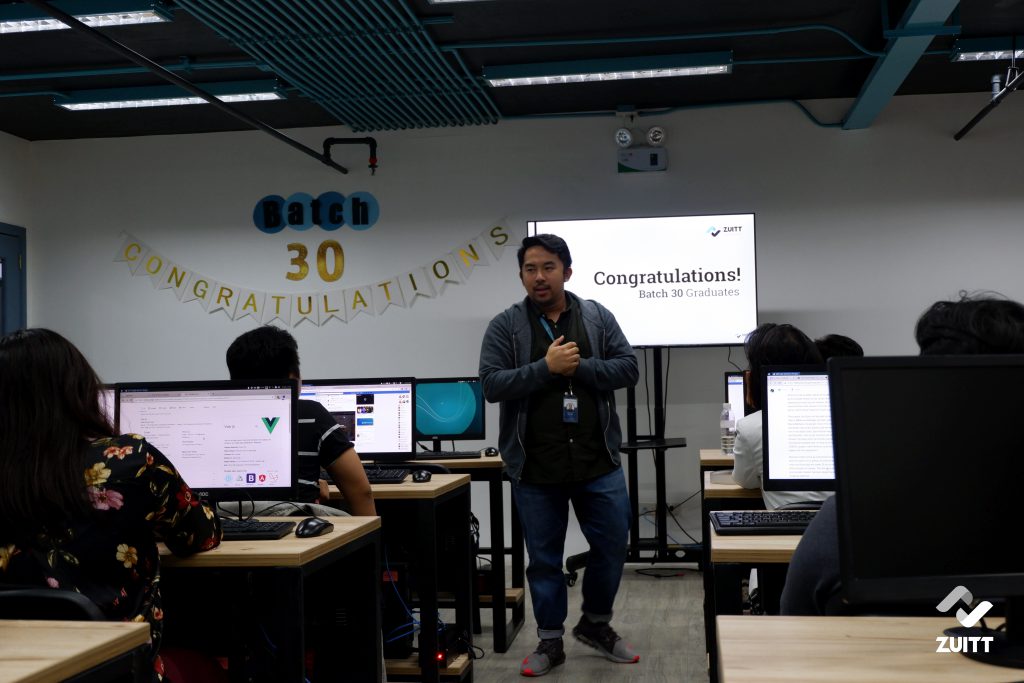 He noted all the hardships the graduating class went through, but advised them to keep the friendships they made along the way if they want to succeed. "More than the errors and experiences you've received, you guys have formed a camaraderie here that I hope you bring with you when you head into the industry."
Awarding of Certificates
After the opening remarks, it was time to award the certificates to the graduating class for their successful training!
The graduates of the Batch 30 Day Class are:
Ablang, Roan Dayne E.
Alojado, Kimberly Joy P.
Battad, Roel A.
Castillo, Avegail B.
Cis, Erwin V.
Cortez, Ma. Cecilia Q.
Dugang, Jaspher T.
Enciso, Ralph Benedict P.
Fabregas, Lilibeth M.
Fortaleza, Floyd Paul Y.
Lepalim, Mary Joy L.
Lim, Ma. Anna Emmanuelle N.
Loria, Angelica Cassandra M.
Lustre, Karlo A.
Magsanay, Reymark D.
Maquilang, Fredger D.
Po, Christina Laine N.
Salazar, Julie Anne R.
Tan, Roivince Noel S.
Tranquillo, Michael L.
Ubalde, John Patrick P.
Vallado, James Michael A.
Zafe, Michiko S.
Industry Speaker
After the certificates were given out, our special guest speaker from the IT Industry and Zuitt alumni, Mr. Don Dilidili, took to the stage to share some words of wisdom with the graduates.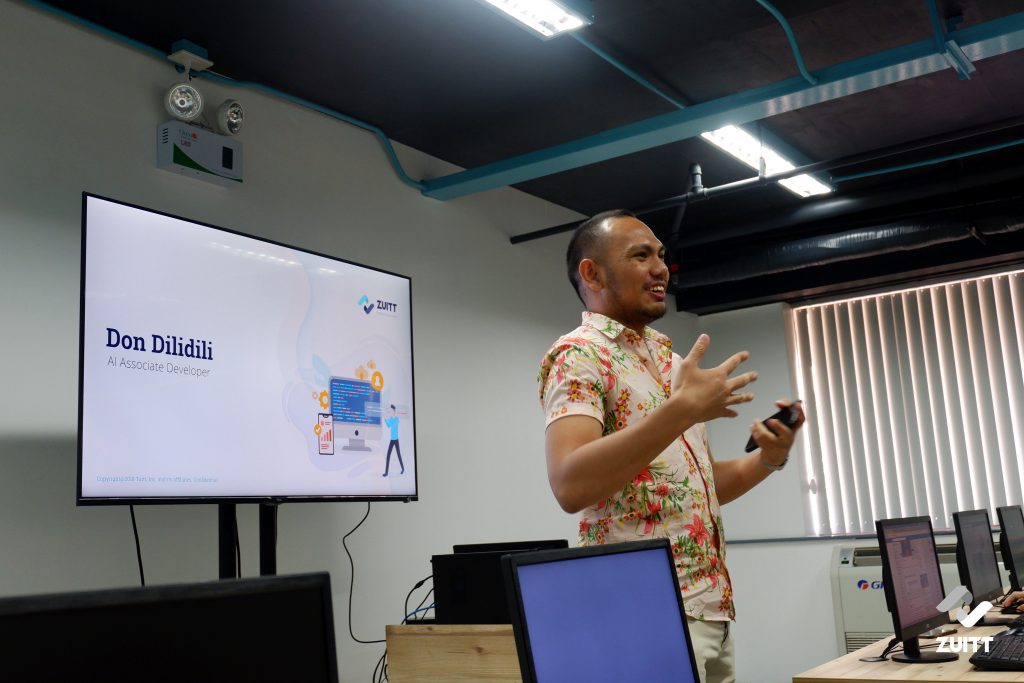 Mr. Dilidili, who is now employed as an AI Associate Developer, recounted how he took up both Civil Engineering and Geography in college, but never got around to finishing and getting his degree. Due to his situation, he decided to take up a job in graphic design, but felt like he needed something more in life. Which is why he eventually decided to enroll in Zuitt. " Zuitt gave me the feeling that I can finish something since I didn't finish college."
To cap off his experience sharing, Mr. Dilidili proceeded to give some helpful tips to the class for when they join the IT Industry:
When choosing a company, choose a company that will teach you
Allow Opportunities to come in
Be strategic
It's okay to fail, but allow yourselves to learn from your failure.
Special Awards
After Mr. Dilidili's uplifting talk, it was time for the Miscellaneous awards! The recipients of these awards were voted by their peers, and here are the ones that were given out on this day:
Outstandingly Organized Award: Ma. Anna Emmanuelle Lim
Enthusiastic Learner Award: Roel Battad
Student Best Able to Teach Others Award: Erwin Cis
Awesome Attitude Award: Fredger Maquilang
Most Likely To Be Famous Someday Award: Kimberly Joy Alojado
Friendly Neighbour Award: Ma. Anna Emmanuelle Lim
Kindness Counts Award: Christina Laine Po
Confident Kid Award: Floyd Paul Fortaleza
Most Likely To Establish Their Own Start-up: Ralph Benedict Enciso
Really Responsible Award: Lilibeth Fabregas
Top Performer Awards
Finally it was time to go to one of the most anticipated parts of the ceremony – the Top Performer Awards! Here are the most outstanding achievers of Batch 30 Day Class:
3rd Top Performer: Jaspher T. Dugang
2nd Top Performer: Lilibeth M. Fabregas
1st Top Performer: Reymark D. Magsanay
Closing Remarks
After the top performer awards were presented, Instructor Charles Quimpo took the stage again to give the graduating class his closing remarks. He gave them one final piece of advice before they took the next step of their coding journey. "When we do get hired, and when we have a hard time at work, just remember 'WYD' – Why you do what you do."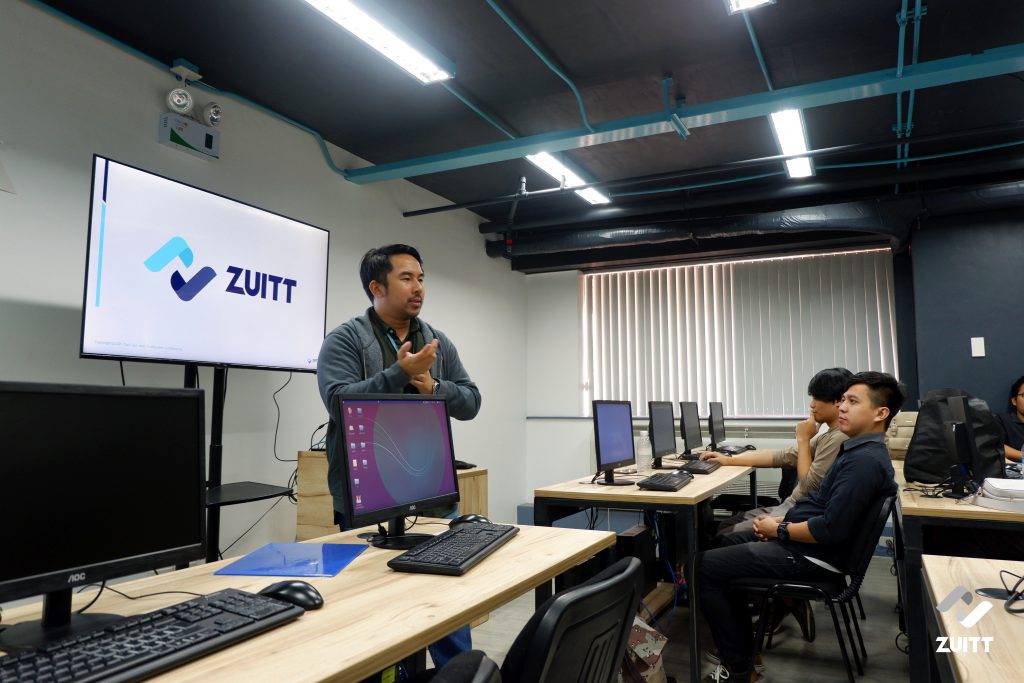 With that, Mr. Quimpo congratulated the 30th batch of Zuitt Day Bootcampers on their successful graduation. And he said they were always welcome back to have some coffee with him whenever they wanted.
Congratulations and We Wish You Well, Batch 30 Day Class!