Another batch of offline to online bootcampers, our 57th Batch of Day Class students have officially completed their 4 months Full Stack Web Development training via online bootcamp.
The Online Commencement was held last June 19, 2020, Friday via video conferencing.
Congratulations to Batch 57 Day Class!
OPENING REMARKS
To start the event, Batch Instructor Alex congratulated everyone and gave quick remarks to all the Bootcamp completers.
"First of all, I would like to congratulate everyone on this commencement exercise. On behalf of the Zitt Administration, Faculty and Staff, I would like to welcome you all in today's graduation ceremony. We are gathered here today to celebrate and witness Batch 57's another milestone in life. Today marks the culmination of your hard work and invaluable efforts. It might be the end of your Zuitt journey as a boot camper but definitely the beginning of a new chapter of your lives as a creative, efficient independent, and productive web developer. Congratulations Batch 57 and welcome to this momentous event."

Batch Instructor Alex
SPECIAL AWARDS
Next is the awarding of special awards for the bootcampers.
The winners of the Special Awards are as follows:
Enthusiastic Learner Award: Janina E.
Outstanding Organized Award: Maria A.
Really Responsible Award: Michael R.
Awesome Attitude Award: Jairus Z.
Student Best Able to Teach Others Award: Michael R.
Most Likely to be Famous Someday Award: Rozelyn F.
Confident Kid Award: Patrick D.
Kindness Counts Award: Ferleen A.
Friendly Neighbor Award: Jan DL.
Congratulations to all Special Award winners!
TOP ACADEMIC PERFORMERS
Among the graduates, here are Batch 57's outstanding performers:
Batch 57 – 3rd Top Academic Performer: Maria A.
Batch 57 – 2nd Top Academic Performer: Michael R.
Batch 57 – 1st Top Academic Performer: Rozelyn F.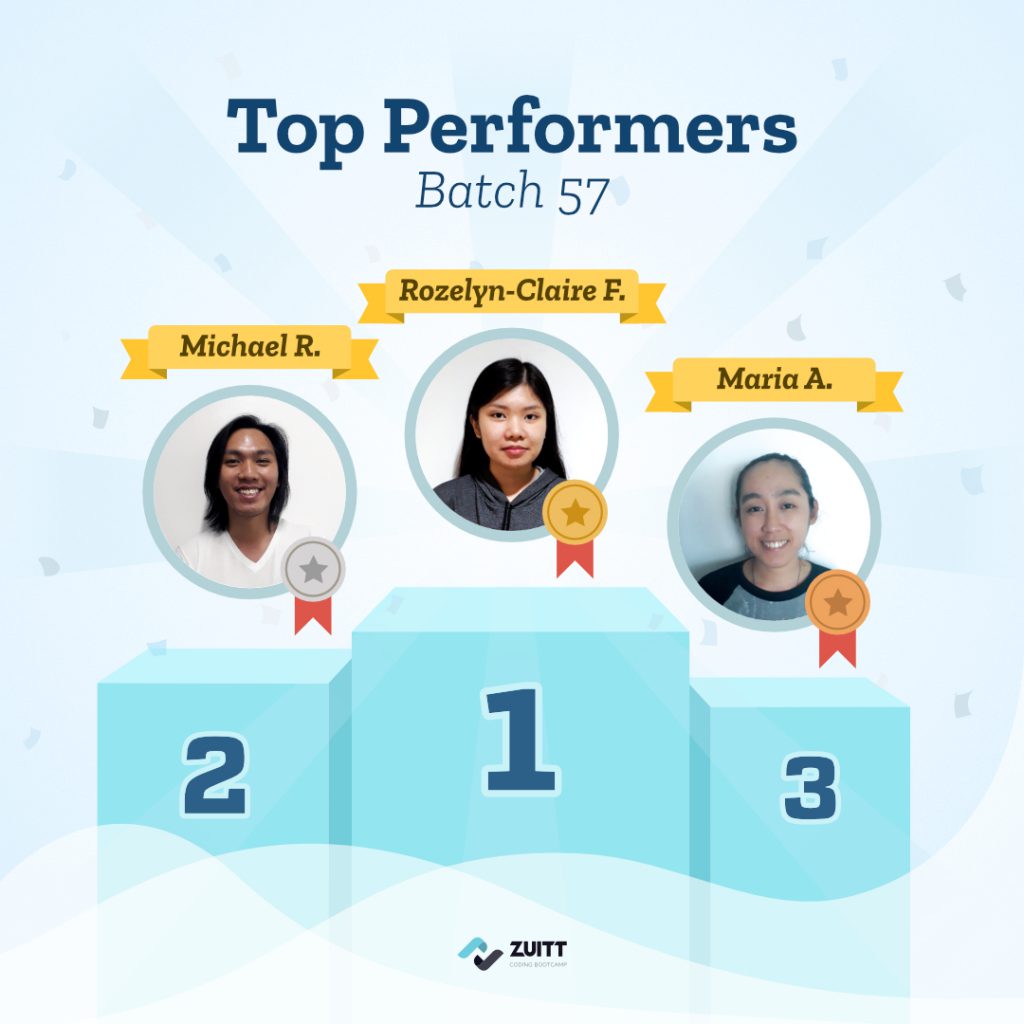 Congratulations to the top performers of this batch!
Batch 57 started their intensive IT Coding Bootcamp back in February 2019, a long coding journey that they will never forget. Their bootcamp training transition from offline to online surely has given them difficulties and challenges but they all pushed through to completing their training.
"We worked side by side to meet our goal na maging full stack web developer kayo. Congratulations! Congratulate yourselves in completing the bootcamp. Palakpakan niyo ang mga sarili niyo."

Batch Instructor Alex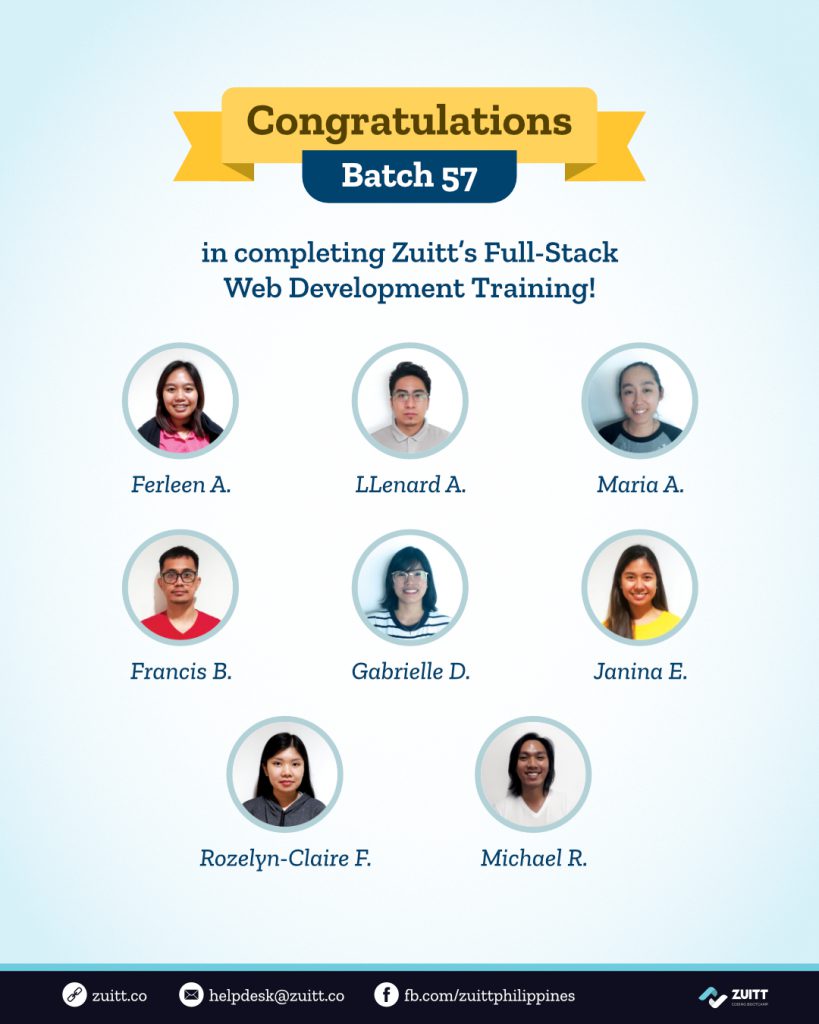 Congratulations and we wish you all the best, Batch 57 Day Class!