Andrew was an Overseas Filipino Worker (OFW) who worked as a Graphic Designer and an IT Support in the United Arab Emirates (UAE) for over 6 years. In the midst of the pandemic, Andrew needed to head back to the Philippines. Going back home, his first quest was to find a stable and fulfilling job.
At the top of his mind, Andrew aimed to get a career in Tech because he has a degree in IT. Looking for a Tech job in the Philippines was a bit of a challenge for Andrew since most employers that he came across required him to have specific technical skills that he lacked. Luckily, with his relentless scrolling on various job sites, Andrew discovered Zuitt's Financial Aid by Employers Program – a Free Coding Training and Job Guarantee Program. Today, he works in one of Zuitt's Partner Employers, YNS – an offshore software development company.
In this article, Andrew shared his late career-change story from his free coding training with Zuitt to his job onboarding with YNS. Let's take a look at his career motivations through his amazing life-changing story.
(Interviewed and written by Dana Diaz)
---
MEET ANDREW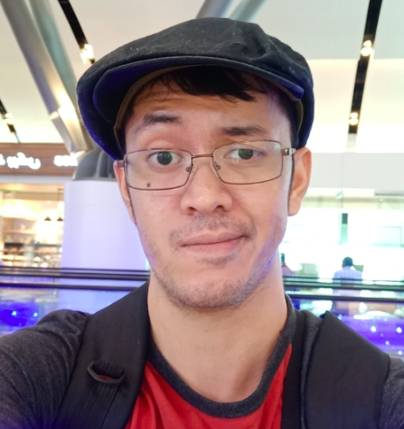 —— Introduce yourself to the Zuitt Community.
Hi guys! I'm Andrew. I'm a former boot camper from Batch 176. I'm currently 32 years old. I was an OFW working as a Graphic Designer and an in-house IT support for Sugarbox. I spent the majority of my career in the UAE. I went home to the Philippines due to the pandemic. I graduated from West Visayas State University with an IT degree. I'm currently working as an Associate Software Developer at YNS.
---
Never Too Late to Have a Career Restart in Tech
—— How did you start your Web Development Journey?
I used to have coding experience. In my first work, I was a Web Master, but it didn't last long. It was just around 1 year. Then, when I went to the UAE, I worked there as a Graphic Designer and an IT support.
When the pandemic happened, I had to stop and go back home in the Philippines. I decided that I wanted to go back to coding and become a Developer. I was already observing the trend in Web Development. I figured that there's higher career mobility in this field. In the ever-changing technology, usually, Software Engineers and Web Developers are the ones in the front end.
Even though I was already having doubts to change my career at this point, given that I am already 32 years old, I was thinking that maybe my experiences from my previous work will still be useful in IT. I wanted to experience career mobility as a Developer and reignite my love for coding. That's why I took the plunge and took the challenge to change my career and go back to being a Developer Coder.
—— How did you find out about Zuitt?
I am not sure if it's faith or luck. Maybe I'm just lucky. I was struggling when I was searching for an entry-level career opportunity. Unfortunately, employers will mention that I lack experience or that they are not looking to train anyone.
Then, I was doing the usual browsing on job sites and I happened to see Zuitt on Jobstreet. I saw that Zuitt offered a Financial Aid Program with their partner companies. At first, I just thought to myself that I'd just try. Funnily enough, I thought this opportunity was too good to be true. I was searching for a catch. And so, I just took the plunge, thinking there was no harm in trying. I applied for the program hoping that it's legit. As far as I experienced it, Zuitt is legit. It's all thanks to Zuitt that I am where I am now.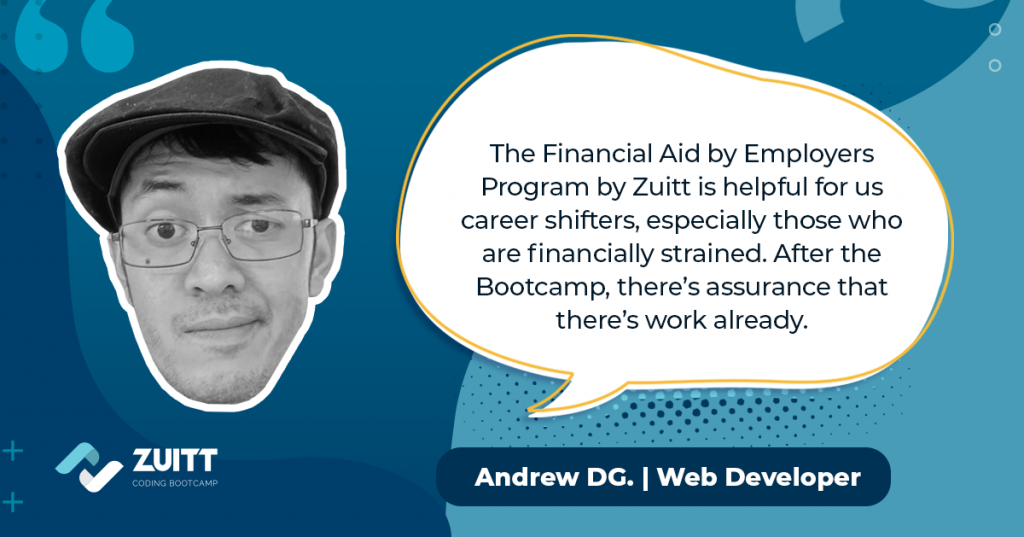 —— What is the best thing about Zuitt's Financial Aid by Employers Program?
The Financial Aid by Employers Program by Zuitt is helpful for us career shifters, especially those who are financially strained. After the Bootcamp, there's assurance that there's work already.
The best thing about the Financial Aid by Employers Program is the opportunity. When I was applying for the program, I was thinking that in the event that I won't be able to get in, I will still try my best to procure the sum of the money needed to enroll. Because in my experience with Zuitt, I could say that it's worth it for the price. This is especially because of the instructors of Zuitt – the way they handle the students is worth every penny.
In the current pandemic situation, not everyone can pay for or afford this amazing service. It's a blessing that Zuitt's Financial Aid programs (both with the partner company and the option for Study-Now-Pay-Later) exist. Now, everyone gets an opportunity to learn and better their lives and career.
A Smooth Transition from Bootcamp Training to Job Onboarding
—— Before you started the Bootcamp, what were your expectations for the training?
Before I started my Bootcamp training, my expectations for myself was that I was going to struggle. Although I am an IT graduate and I had some experience with coding, I understood that my skills were already obsolete since it was already 6 to 8 years ago.
With Zuitt, I expected that I would be able to learn a lot of stuff, especially with the current trends and standards of being a web developer. I was expecting that all the knowledge that will be imparted to us in the training will be the things that we are going to use once I start a job in the field. As far as those expectations were concerned, they were all met with flying colors.
—— Tell us your overall experience with Zuitt's Developer Career Program.
With regards to my overall experience in the Bootcamp, I really appreciated that the program was divided into three courses so that boot campers like me won't feel overwhelmed. And at the same time, it slowly built our skills and our foundation as a Developer phase by phase.
Thanks to the amazing Zuitt instructors! We were able to overcome all of it. To those who are looking into taking up the challenge, even if you are anxious and thinking that maybe you won't be able to handle the challenge, just go for it, and everything will be just fine. Just do it with Zuitt.
—— How was your transition from your Bootcamp with Zuitt to working with YNS?
I started with YNS around the first week of July 2022. After the Bootcamp, I started my job with YNS immediately. I was lucky enough to avail of this and be qualified. YNS also has in-house training. I was surprised because the technology taught to us in Zuitt was also being used by YNS. In a way, it took us less time to adjust because we could apply what we were trained for to the workflow and technology used by YNS. It was all thanks to Zuitt.
When we took post-Bootcamp classes (short courses – PHP and Laravel after the main course package), it was a huge help since that is the main technology used by YNS. So when we came to the point that we had to do our training in in-house training with YNS, we were already familiar with it because we had already learned it in Zuitt.
After the in-house training with YNS, I was assigned to a production team (Team 2). Although I was still testing the waters as a newbie, I can say that the learnings we acquired were good. You can't expect that you will be an expert in the field right away. But it's nice that the stuff that we have learned can be applied in our current work situation.
The transition was smooth. Zuitt already prepared us for it. YNS was amazing, too, when it comes to onboarding. They're good with handling their newbies, ensuring they won't have culture shock. If I had to compare this experience to my previous career experiences, I could say that this was the smoothest transition that I have ever had with a career.
—— What do you like most about being a YNS employee?
What I like most about YNS is the work culture. I mentioned earlier that I had a smooth transition from being a boot camper to finally being their employee. Everyone here has been very helpful. Even the Japanese bosses are helpful and kind. The environment is conducive to learning and working. I learned a lot of new things, and I am having fun working with them.
I do not have any regrets about shifting careers, even if people say that it's too late for me. In my experience with Zuitt and YNS, it was all been worth it! I found my tension foolish because all my worries when I started were baseless.
—— Since you were an OFW and had several career experiences, what motivates you to keep going now that you are back in the Philippines with an entry-level job?
With regard to my drive, most people will definitely say it's too late for me to shift careers. They might say I am probably crazy to change career routes and throw away 6 to 8 years of work experience. But I do not regret it one bit so far.
Since I worked as an OFW, It goes without saying that the work culture and environment are different. But I was surprised that the work benefits (like HMO, Leave days) are almost equal. Some might ask me why I chose to start in an entry-level job considering that I am already getting a high salary working as an OFW. I would say it's true that for some, it would be detrimental, but I don't see it that way for me. Although I worked 6 years as an OFW, I realized my career was put to a full stop. I was not growing in my previous career anymore. It is probably my circumstance with the company or something else. But I observed that my growth as a professional had been stunted. I was craving learning and career growth.
When I transferred to a career in Web Development, especially with YNS, they showed me that there is room for growth here, that there is career mobility here, and that my salary (even though I will start with the basic salary), there is assurance wherein my efforts will be rewarded. You will start at the lowest, and I already expected that and set my mind to it. I will accept this because even though my salary is lower compared to my previous salary, I know that the ceiling for growth as a Developer is unlimited. It will all depend on your outputs and your efforts.
I have no regrets whatsoever. From where I am standing right now, I can say that the sky is the limit as long as I put my effort into it.
—— How do you see yourself in the next few years – especially in your career growth?
With regard to how I see myself in the next few years, I am trying to set a more realistic point of view. I have to temper my emotion, and at the same time, I also have to try to set a higher goal for myself.
For example, I can't see myself as a Senior Developer in 1 to 1.5 years. That's too unrealistic; However, I can definitely see that a year from now, I can be a Software Engineer I (or maybe, if I am ambitious enough, a Software Engineer II) with YNS from being a Junior Developer.
The long goal is that I can definitely see myself in the future earning 6 figures (not to sound too ambitious or boastful). As Developers, growing in this field means an ever-changing career path because of the changing technology. I must expect to expect the unexpected. I see myself growing in this field and having a successful career since my foundations are already set. Very strong thanks to my Bootcamp training with Zuitt and with my company, who is very supportive. So yeah, I temper my expectations, but the sky is the limit.
Sky is the limit with Zuitt's Financial Aid by Employers
—— What is the best thing about Zuitt?
I find it hard to choose one best thing about Zuitt. There are a lot of things that I love about how Zuitt does things for their boot campers.
First and foremost are the amazing Zuitt instructors. They are very knowledgeable in their expertise. They were able to impart their knowledge to us. We (my batchmates) came from different backgrounds and had different learning paces, but our instructors were all able to adjust to each and every one of us. We were all able to cope. At the same time, they make learning fun and interactive for us. It was not just about doing this or doing that. The classes were very interactive, which made learning fun.
The support staff of Zuitt also checks in on us every once in a while. They ask us about our experiences and how we are in the Bootcamp so far. They asked us how Zuitt could make the Bootcamp more conducive and comfortable for us to learn efficiently. I appreciate that approach because it feels more personal for us in a way. We can say that Zuitt cares for us, their boot campers. They want us to succeed.
And then, of course, Zuitt's Financial Aid Program comes in two flavors: (1) Study Now Pay Later, and if you are lucky, you can be a part of the (2) Financial Aid Program. What I love about this program is that it gives everyone opportunities. It levels the playing field since not everyone can afford the Bootcamp. Although the Bootcamp itself is worth every penny, we still can't expect everyone to have equal economic status. So, Financial Aid can give opportunities to people, especially those on the lower end who want to improve themselves and elevate themselves to improve their lives. The Financial Aid by Employers program of Zuitt is too good to be true, and it's true for real. I'm 100% living proof.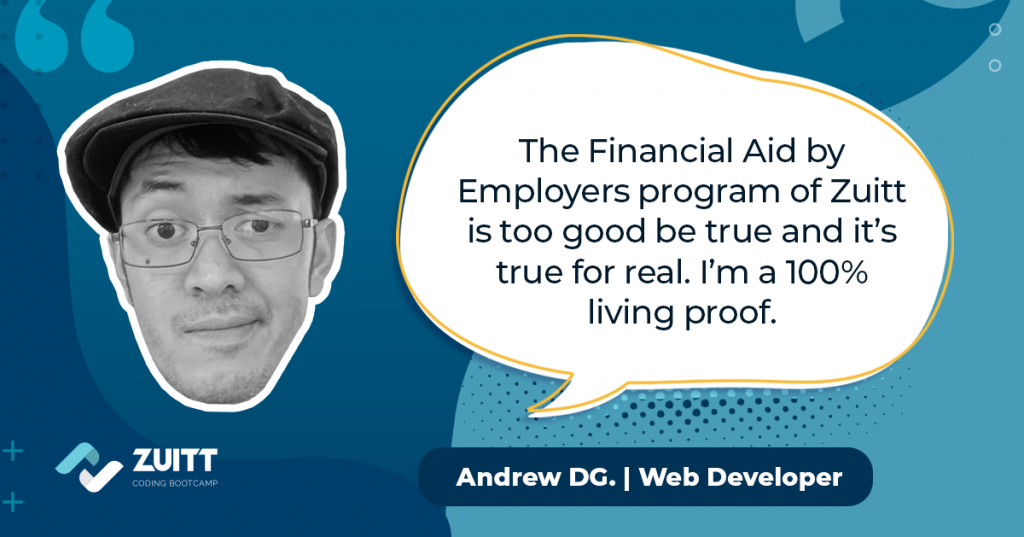 —— What is your message to our future boot campers?
My message to the boot campers (especially to those who are about to start their Bootcamp training) is YOU CAN DO IT. With Zuitt, you can do it! 
Do not pressure yourselves too much. Even if you know that you will have a hard time, know that you will make it every step of the way. Even if you have anxiety while doing your projects, accept that the challenges and struggles are there. Just don't give up.
To the late career shifters like me who will also start their training with Zuitt, you will be alright. There will be anxieties and uncertainties. Just do your best and try to hold on. And as long as you put in the effort, you will make it, especially after the Bootcamp.
(End of interview)
---
If you have a similar experience to share with our boot campers, drop us a message at marketing@zuitt.co.