August 2021 – Zuitt partnered with various Philippines and Vietnam organizations to launch Free Coding Bootcamps. Together with its partner organizations, Zuitt announced a weekly schedule roll-out for the whole month of August. 
Since the start of 2021, a growing number of interested applicants have been requesting for more batches to open. Because of this, we collaborated with organizations to reach more aspiring web developers in the Philippines and around the globe.
Here are the Free Coding Bootcamp Batches for August
Event
Partner Organization
Schedule
Register Here for FREE
Let's Code: Discover Your Learning Potential in Web Development (Batch 2)
Co-presented by Liyab
August 7 – 8, 2021 (Saturday & Sunday)
*Event concluded
Pinoy Codes: Linangin ang kakayahan sa Web Development
Co-presented by Algo Filipino
August 14 – 15, 2021 (Saturday & Sunday)
*Event concluded
CodHer: Women Empowerment Through Web Development
Co-presented by Women of Global Change Philippines
August 21 – 22, 2021 (Saturday & Sunday)
Register to CodHer
*Registration closes on Aug 19, 2021, 11:59 PM
Girls in Tech: Road to Coding Literacy through Web Development
Co-presented by Girls in Tech Vietnam; with Community Partners  Women in Tech Vietnam, AngelHack
August 24 – 25, 2021 (Tuesday & Wednesday)
Register to Girls in Tech
*Registration closes on Aug 22, 2021, 1:59 PM
Two down, two more to go!
For the first run of Free Coding Bootcamp in August, Zuitt arranged the second batch of Free Coding Bootcamp with Liyab; an e-learning startup focused on helping Gen Z Filipinos transition to work-life and adulthood. This event concluded last August 7 & 8, 2021. 
Here are some of the praises from Let's Code Batch 2:
"It was good. The instructor always makes sure that all participants are on the same page and no one is left behind, which I think is a really good example of a good teaching method." – Prince V.
"The best! Even as a newbie I have learned so much in a short period of time. Instructors are very competent, approachable, and helpful. Very nice & friendly environment. I will miss them." – Diouf J.
"I found the bootcamp to be very informative on practical tools and concepts that web developers use. I liked the content of what was taught and also the pacing, which I found to be just right in allowing me to follow the entire session, and absorb and clearly understand all relevant information." – Paulo S.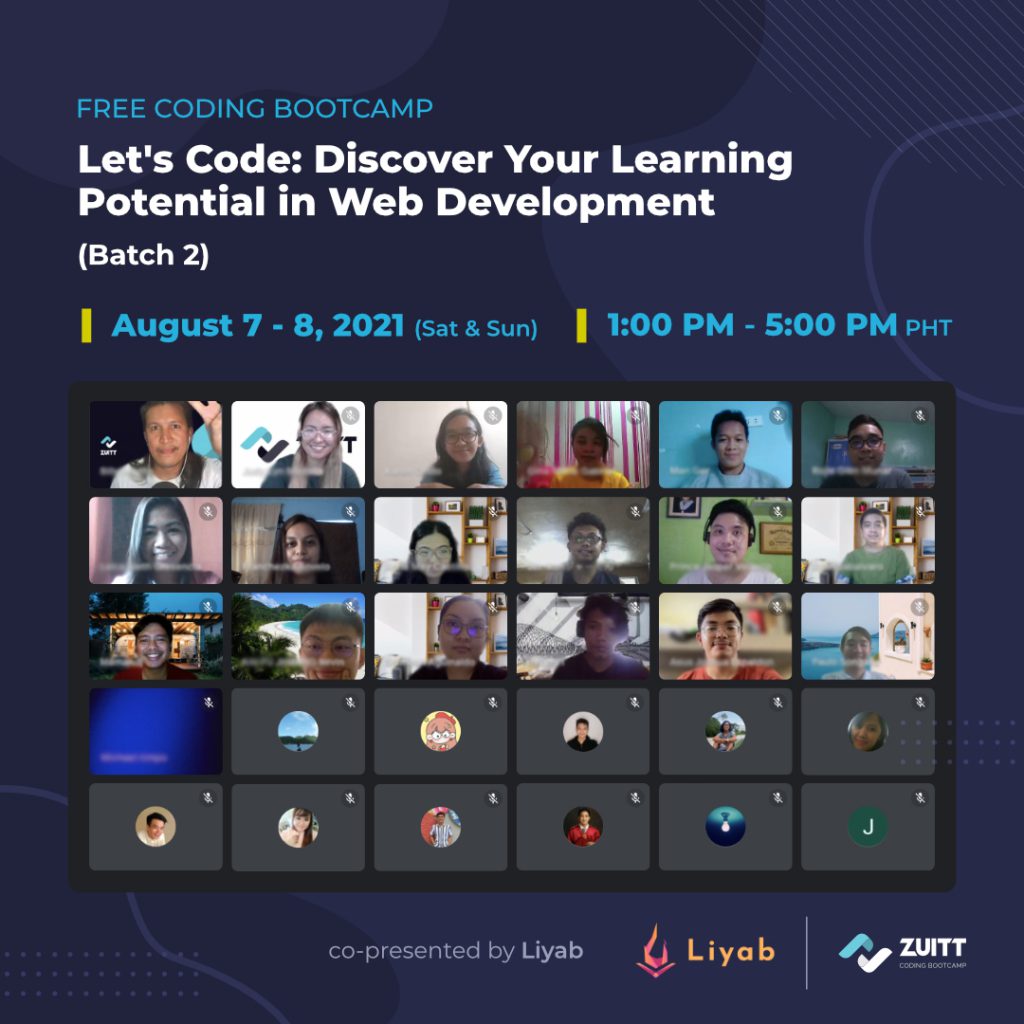 As the 2nd weekend of August came, we had hit the highest number of attendees in the history of Zuitt's Free Coding Bootcamp this year. To our surprise, we have garnered almost 140 students in our Free Coding Bootcamp with Algo Filipino, a non-profit organization that focuses on enriching the Filipino Language as their mode of learning through different aspects of technologies.
Here are a couple of honest feedbacks that we got from our Pinoy Codes Free Coding Bootcamp Batch:
"Personally, it was great. Sir Tee Jae was a great instructor. He was able to help everyone who was having difficulties. The lecture was concise as well as comprehensive. Every procedure was explained meticulously. I enjoyed the experience." – Louise N.
"Super happy and satisfied. I really really liked it because no one was left behind. The step by step of the sessions were well discussed. I love it." – Irish T.
"It was very educational and fun. The instructor embraced the fact that everyone learns at their own pace. He is very friendly and patient to everyone and knowledgeable on the topic. You won't feel neglected. The knowledge and skills learned from this bootcamp is so good. In addition, how the knowledge was taught and passed was exceptional and admiring. Thank you very much for this program." – Sharmaine F.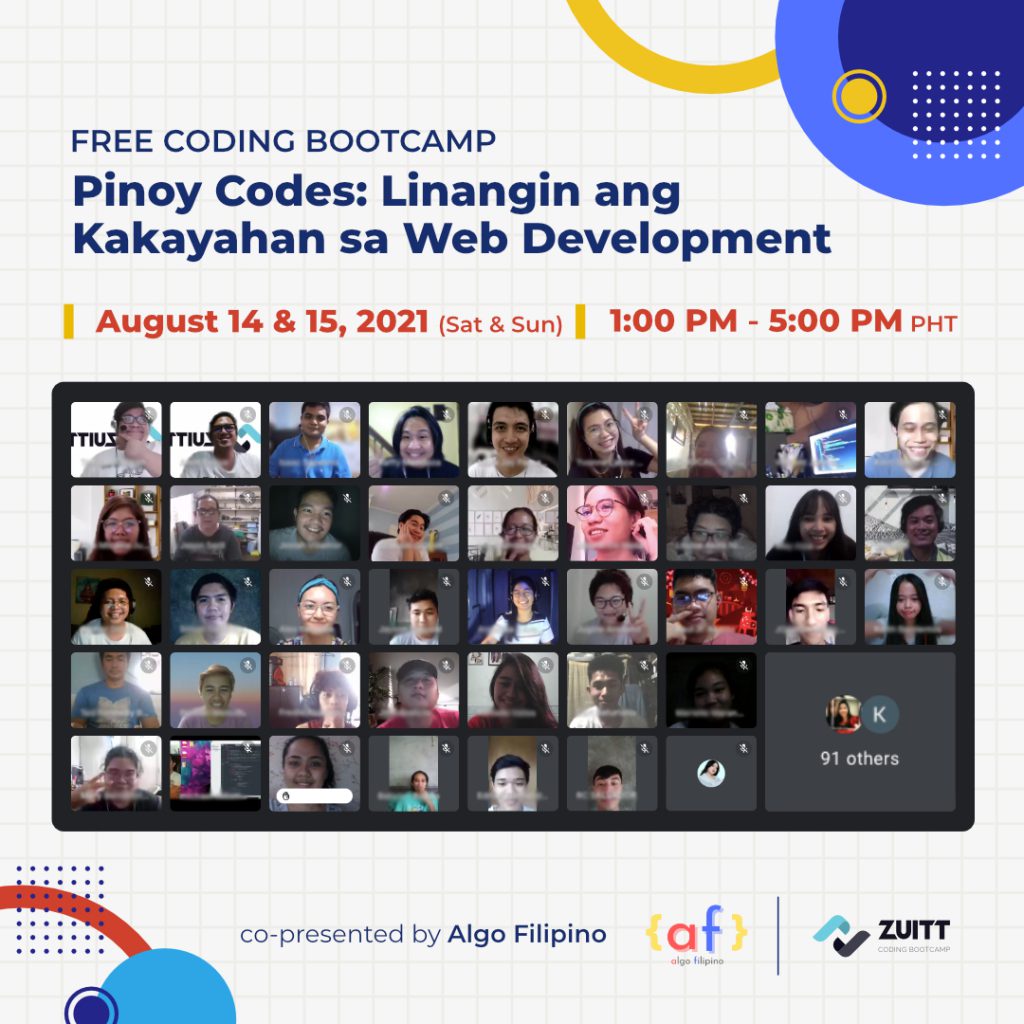 Do you want to experience Zuitt's Free Coding Bootcamp? Registration for the next two batches is still ongoing. Kindly refer to the table above for the designated registration links for each event. 
For inquiries or concerns, drop us a message at marketing@zuitt.co and we will be more than happy to assist you.